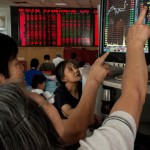 PhotoInvestors following the ups and downs of the stock markets at a brokerage house in Beijing.Credit Gilles Sabrie for The New York Times
The symptoms, medical experts say, appear suddenly and often linger for months: insomnia, irritability, depression and an obsession with tracking stock prices.
Amid the recent turmoil in China's stock markets, as values plummeted from all-time highs, doctors have reported a surge in what they're calling gupiao jiaolü zheng (股票焦虑症), or "stock market anxiety syndrome."
In some cities, students have dropped out of university, unable to give up their habit of tracking their investments, according to local news media. Wealthy investors have sought counseling, struggling to come to terms with the enormity of their losses after stock prices plunged. In response, doctors are advising traders to take up new hobbies and spend more time with family and friends. Some medical experts say high-risk groups, such as the elderly, the physically infirm and emotionally unstable, should consider withdrawing from the markets altogether.
"It's not worth it to risk your psychological well-being against the odds of earning huge fortunes," said Zhang Yi, a counselor at Beijing Anding Hospital. Dr. Zhang said she recently treated a 52-year-old woman for depression, after the woman lost 1 million renminbi, about $160,000, in two weeks.
Experts in Chinese traditional medicine said playing the stock market is dangerous because it can stir up unhealthy emotions, such as fear and shock.
"If you're not mentally strong, don't go play in the market," said Fan Yongping, director of the Chinese Medicine Department of Beijing Tiantan Hospital.
With volatility persisting in the markets, state news media outlets have offered several cautionary tales about stock market anxiety syndrome. Global Times recounted the story of Frank Feng, a 26-year-old financial news reporter in Beijing who lost around 60,000 renminbi, nearly all his savings.
"He was very dedicated to work and liked to socialize with people, but now he has become extremely moody and is on the verge of a nervous breakdown," the newspaper reported. "When the bull market turned bear, he began to fail to control his temper and sometimes would become furious, suddenly letting out screams for no reason."
Medical experts said that stock market anxiety syndrome is not a new psychological disorder, but a manifestation of more familiar afflictions such as depression.
"It's like when we say 'mobile phone addiction syndrome,' " Dr. Zhang said. "If there are other crazes in this society, there may be other 'syndromes,' too."
Follow Javier C. Hernández on Twitter @HernandezJavier and Vanessa Piao @VanessaPiao.
Visit site – 
Turmoil in China's Stock Markets Takes a Psychic Toll – The New …