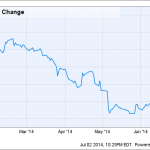 Summary
TWTR is no longer vulnerable to lock-up expiration selling.
I like TWTR's decision to hire Anthony Noto and think it bodes well for the stock.
TWTR is a potential acquisition target.
Shares of social media giant Twitter (TWTR) have been under heavy selling pressure so far in 2014. A number of factors have driven TWTR shares lower including a changing market sentiment towards high valuation stocks, earnings that have fallen short of expectations, and the increase in float due to expiration of TWTR's lock-up.
Lock-Up Expiration
The lock-up expiration was one of the reasons why I had been bearish on TWTR in January. TWTR was not the only social media stock to be heavily impacted by selling due to the lock-up expiration. It should also be noted that the expiration of the major lock-up was when Facebook (FB), the largest social media stock, hit bottom. It would not be surprising to see that TWTR's lock-up expiration also ends up being a major bottom for the stock.
Anthony Noto
TWTR recently named former Goldman Sachs technology banker Anthony Noto as its new CFO. I believe that Noto's expertise will be helpful for TWTR as the company works to figure out how to monetize its user base. I also believe that bringing in someone from outside the company is beneficial as it will help the company see things from a different perspective. Finally, as part of his pay package, Noto received 1.5 million restricted common stock units along with the option to buy an additional 500,000 shares. This package clearly aligns Noto's pay with TWTR's stock performance.
Twitter Is A Potential Takeover Target
Simply put, the current M&A market is red hot with deals coming at a furious pace. Perhaps the most notable tech deal of late was Priceline's move to buy OpenTable (OPEN) for $103 per share, a massive premium. While TWTR would certainly be a very large deal, there are a number of larger technology companies that could be interested. Apple has been discussed as a possible buyer of TWTR on multiple occasions. Certainly Apple (AAPL) has the cash to buy TWTR and a lot of talented people who could help monetize the social media platform. In addition to Apple, Google (GOOG, GOOGL) & Microsoft (MSFT) could be potential buyers of TWTR. I could even envision Facebook making a move to buy TWTR. In a previous piece, I discussed why I like Priceline's move to buy OpenTable. Basically, I believe Priceline (PCLN) will be able to enhance OpenTable's offerings to substantially increase the income generated by OpenTable. I think a similar case could be made if Apple or Google acquire TWTR. Both companies would likely be able to find a unique way to leverage their platforms along side TWTR to create something special.
Conclusion
It is difficult to make a case for TWTR based on valuation and thus any opinion of TWTR in highly speculative in nature. That being said, I believe the time is right to buy TWTR. The combination of the lock-up expiration being in the rear view mirror, Anthony Noto being hired as CFO, and the possibility of a takeover are the reasons why I am bullish on TWTR.
Source:
Twitter: 3 Reasons Why I Am Bullish
Disclosure: The author has no positions in any stocks mentioned, and no plans to initiate any positions within the next 72 hours. The author wrote this article themselves, and it expresses their own opinions. The author is not receiving compensation for it (other than from Seeking Alpha). The author has no business relationship with any company whose stock is mentioned in this article. (More…)
Read more on Dividend Investing »Read more on Alternative Investing »Research ETFs for your portfolio with the new ETF Hub »Sammy Pollack(669 followers)
Long/short equity, contrarian, research analyst, portfolio strategy
You will now receive new articles by this author via email. Manage your settings »
Seeking Alpha PRO helps fund managers:
Research new investment ideas
Reduce risk
Find out if PRO is right for you:
Thank you for your interest in Seeking Alpha PRO
We look forward to contacting you shortly for a conversation.
Thank you for your interest in Seeking Alpha PRO
Our PRO subscription service was created for fund managers, and the cost of the product is
prohibitive for most individual investors.

At this time, we do not yet have a subscription product for individual investors.
If you'd like us to contact you when it's ready, please click here.

If you are an investment professional with over $1M AUM and received this message
in error, click here and you will be contacted shortly.
  

Thank you for your interest in Seeking Alpha PRO
We look forward to contacting you when we have an individual investor product ready!
Already subscribed to PRO? Sign in here
Symbol
Price
% Chg
Remove
–
–
–
–
–
–
–
–
–
–
–
–
–
–
–
–
This article was sent to 22,235 people who get email alerts on .
Get email alerts on »
This article was sent to
479,680
people who get the Investing Ideas newsletter.
Get the Investing Ideas newsletter »
PORTFOLIO
Symbol
Alerts
Price
Chg
% Chg
Add Stocks
New!
Follow these related stocks
(Click to add stocks to your portfolio)
22,235 people received this article by email alert
Add your email to get alerts on too:
Get email alerts on »
This article was sent to
479,680
people who get the Investing Ideas newsletter.
Get the Investing Ideas newsletter »Tagged:Investing Ideas
,
,
,
Internet Information Providers
Share this article with a colleague
See the original post:
Twitter: 3 Reasons Why I Am Bullish – Twitter, Inc. (NYSE:TWTR …