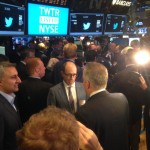 Jay Yarow/Business Insider
Twitter had a relatively steady first day as a public company.
The IPO was priced at $26 a share. The opening trade was at $45.10.
That price took a little longer than expected for the NYSE. Trading opened at 10:49. People were expecting to start at 10 AM.
The extra time was spent getting the price just right, and it worked. The stock briefly hit $50 during the day, then settled in at ~$46. At the end of the day it lost some steam and closed at $44.9o. Not too bad!
Traders getting ready on the floor of the NYSE.

Twitter executives will ring the opening bell here.

Here's the scene outside the NYSE. Nice banner!

Trading terminals getting ready to trade TWTR.

Here's CNBC's Jim Cramer on set at the NYSE.

Twitter co-founder Jack Dorsey.

Twitter CEO Dick Costolo meeting and greeting people.

3 minutes until the opening bell!

Surprise! Patrick Stewart is ringing the opening bell for Twitter.

Markets are open! Twitter will begin trading in an hour or two.

Here's another look at the opening bell ringers.

Media surrounds Twitter's co-founders.

Twitter indicated to open at $40-$44.

Patrick Stewart is now on CNBC talking about how Twitter has changed his career.

"It has changed the perception of who Patrick Stewart is."
UPDATE: Twitter opening indication jumped $42-$46.

Sir Patrick Stewart on CNBC talking about how Twitter has affected his career.

One more photo of Sir Patrick Stewart!

Another update: Indication now $43-$47 for Twitter's opening stock price.

Now the indication is $45-$47 per share.

The trading floor is kind of quiet now. People are just waiting around for Twitter to start trading.

CNBC's Jim Cramer just called they Twitter IPO hype "nuttiness."

$45-$46. It's tightening up!

Twitter starts trading at $45.10 per share.

Twitter co-founders Biz Stone and Ev Williams.

Stock now trading slightly above $46.

Twitter is now up to $49 per share.

It hit $50!

Price seems to be holding steady in the $45-$46 range now.

Source:  
Twitter IPO Live – Business Insider
See which stocks are being affected by Social Media