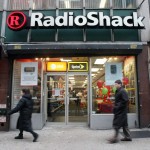 File 2008/Getty Images
(Photo by Mario Tama/Getty Images)
Update at 5:03 p.m.: Trading is halted in RadioShack stock and the New York Stock Exchange has started the process to delist its shares. Shares ended trading at 24 cents on the NYSE. The company's stock will continue to trade in the over-the-counter market.
Related
RadioShack is expected to announce store closings
RadioShack's small town strategy ruled
Schnurman: Could RadioShack use that $3 billion now?
RadioShack may sell leases to Sprint
Original post at 12:41 p.m.: Bloomberg News is quoting sources saying that RadioShack Corp. is preparing to shut down the almost-century-old electronics chain in a bankruptcy deal that would sell about half its stores to Sprint Corp. and close the rest.
The retailer has started clearance sales at many of its 4,200 stores across the U.S.
Sprint is behind AT&T, Verizon and T-Mobile in opening its own branded wireless stores. AT&T has more than 5,000 branded stores. Verizon has more than 1,700.
RadioShack's locations are in high traffic neighborhood shopping centers. It has been closing its mall stores. Sunday was the last day for its store at Town East Mall in Mesquite. The Parks at Arlington store is expected to close later this spring.
Top Picks
Read this article:
Update: New York Stock Exchange moves to delist Radio Shack …