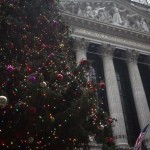 Wall St. inches up in short session, indexes at records
NEW YORK Wed Dec 24, 2014 11:41am EST
Share this
Email
Print
The exterior of the New York Stock Exchange is pictured with a Christmas tree in front of it in the Manhattan Borough of New York, December 23, 2014. U.S. stocks advanced on Tuesday, as the Dow climbed above the 18,000 mark for the first time in history and the S&P 500 set a new intraday record after an unexpectedly strong report on economic growth.
Credit: Reuters/Carlo Allegri (UNITED STATES – Tags: BUSINESS)
8:33am EST
US STOCKS-Futures flat after 5-day rally; jobless claims data on tap
7:35am EST
RPT-Stock swings may signal bull run is in its last throes
3:35am EST
European shares inch up in shortened session
3:33am EST
GLOBAL MARKETS-Asia stocks, dollar up as robust US GDP lifts holiday mood
1:16am EST
Australia shares slightly higher as iron ore slump offsets U.S. fervour
Tue, Dec 23 2014
That Escalated Quickly
Washington can lead on criminal-justice reform
NEW YORK (Reuters) – U.S. stocks edged higher on Wednesday, with the Dow and S&P 500 at records and on track for a sixth straight daily advance as biotech stocks rallied and data pointed to improving economic conditions.
The day's action was light, with many market participants already out for the Christmas holiday. The stock market will close three hours early on Wednesday and will be closed all of Thursday.
Equities have been on a hot streak of late, with the Dow closing above 18,000 for the first time ever on Tuesday. The S&P 500 is up 5.7 percent over the past six sessions and is on track for its 52nd record close of this year, the most since 1995 and the fourth best in history.
Those gains have come on central bank assurances and improving economic data, a trend that continued with jobless claims on Wednesday. Initial claims for state unemployment benefits dropped 9,000 to a seasonally adjusted 280,000, their fourth straight week of declines, and below the forecast of 290,000.
"Equities are heading towards the year-end finale in a good position," said Terry Sandven, senior equity strategist at U.S. Bank Wealth Management in Minneapolis. "Fundamental and macro factors are supportive of higher equity prices, and clearly today if you look at the claims data which was generally in line with expectations, it still points toward an improving labor market."
The day's gains were broad, with seven of the 10 primary S&P 500 sectors rising on the day. The Nasdaq Biotech index .NBI was a particular standout, up 2.3 percent in a partial rebound from the drop of nearly 7 percent over the previous two sessions.
Biotechs made up the S&P's top six percentage gainers. Celgene Corp (CELG.O) rose 4 percent to $110.39 while Gilead Sciences (GILD.O) added 3.1 percent to $92.23.
Adamas Pharmaceuticals Inc (ADMS.O) jumped 22.6 percent to $17.96 after the U.S. Food and Drug Administration approved a drug developed with Actavis Plc (ACT.N) to treat dementia in Alzheimer's patients. Actavis shares rose 0.3 percent to $256.67.
At 11:00 a.m. (1600 GMT) the Dow Jones industrial average .DJI rose 51.5 points, or 0.29 percent, to 18,075.67, the S&P 500 .SPX gained 3.85 points, or 0.18 percent, to 2,086.02 and the Nasdaq Composite .IXIC added 19.27 points, or 0.4 percent, to 4,784.70.
Both the Dow and S&P are on track for their sixth straight daily advance, the longest streak for the benchmark S&P since June.
Energy shares continued their recent weakness as crude oil CLc1 lost 3.1 percent to $55.38 per barrel and hovered near its lowest level since 2009. The S&P energy index .SPNY fell 1.4 percent; Exxon Mobil (XOM.N) lost 1.4 percent to $93.30 while Chevron (CVX.N) slid 1 percent to $112.82.
Advancing issues outnumbered declining ones on the NYSE by 1,579 to 1,309, for a 1.21-to-1 ratio on the upside; on the Nasdaq, 1,554 issues rose and 979 fell for a 1.59-to-1 ratio favoring advancers.
The benchmark S&P 500 index was posting 74 new 52-week highs and 5 new lows; the Nasdaq Composite was recording 72 new highs and 17 new lows.
(Editing by Meredith Mazzilli)
Link this
Share this
Digg this
Email
Print
Reprints
Continued here:  
Wall St. inches up in short session, indexes at records
See which stocks are being affected by Social Media