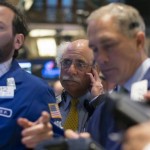 Traders work on the floor of the New York Stock Exchange April 20, 2015.
Reuters/Brendan McDermid
n">(Reuters) – U.S. stocks were mixed on Tuesday, with the Dow industrials pulled down by a handful of uninspiring earnings reports, while the Nasdaq was pushed higher by a proposed biotech merger.
Travelers, DuPont and IBM shares weighed on the Dow. DuPont reported lower sales in all of its businesses and said a strong dollar would take a toll on its full-year earnings. IBM also mentioned currency effects when it reported a fall in revenue late on Monday.
DuPont was down 2.73 percent at $70.84 and IBM fell 1.14 percent.
March-quarter earnings season is in full swing, with almost 73 percent of the S&P 500 components that have reported so far beating bottom-line expectations, but just 42.2 percent beating expectations for revenue.
Investors are gauging how much a strong dollar has hurt U.S. multinationals, including technology companies like Facebook, Google, Qualcomm, Microsoft that sell many of their products and services overseas and are expected to report their earnings this week.
"There's a lot of cross-current in the earnings picture. Are we at peak margins? Are we likely to hold, or might there be some downside?" said Mark Foster, chief investment officer at Kirr Marbach & Co in Columbus, Indiana. "People are pretty zeroed in on that."
The dollar has gained almost 9 percent since the beginning of the year against a basket of major currencies, hurting companies with large overseas operations.
Travelers reported a drop in quarterly net profit and its shares fell 3.73 percent.
At 3:04 p.m.. the Dow Jones industrial average fell 80.47 points, or 0.45 percent, to 17,954.46, the S&P 500 lost 2 points, or 0.1 percent, to 2,098.4 and the Nasdaq Composite added 23.74 points, or 0.48 percent, to 5,018.34.
Mylan shares rose 9 percent to $74.23 after Israeli drugmaker Teva made an unsolicited offer of $82 per share, in what could be the drug industry's largest takeover this year. Teva rose 1.91 percent. The Nasdaq Biotech index rose 2 percent.
Chipotle, Yahoo and chipmaker Broadcom were expected to report their quarterly results after the bell on Tuesday.
Advancing issues outnumbered declining ones on the NYSE by 1,552 to 1,466, for a 1.06-to-1 ratio; on the Nasdaq, 1,363 issues fell and 1,338 advanced, for a 1.02-to-1 ratio favoring decliners.
The S&P 500 was posting 12 new 52-week highs and no new lows; the Nasdaq Composite was recording 87 new highs and 24 new lows.
(Additional reporting by Tanya Agrawal; Editing by Meredith Mazzilli and Nick Zieminski)
Continued here – 
Wall St. mixed as lackluster earnings offset biotech M&A bid
See which stocks are being affected by Social Media