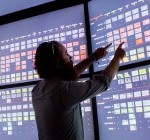 Growing Big Data adoption is driving new use cases for gathering, processing and communicating information, as Hewlett-Packard demonstrated this week at its Barcelona conference. The technology titan took the wrapper off HP Earth Insights, a highly specialized analytics solution that lets ecologists work faster and more efficiently.
The offering runs a custom dashboarding solution called the Wildlife Picture Index Analytics System on top of Vertica to rapidly ingest terabytes of photos, climate measurements and biodiversity data from 16 tropical forests around the globe. The software is used by Conservation International, the Smithsonian Institution and the Wildlife Conservation Network to track ecological threats and help protected area managers make better decisions.
SAP also had a couple of notable updates, starting with the launch of InfiniteInsight, a predictive analytics suite that fuses homegrown technology into modeling software from recently acquired startup KXEN. Designed to let everyday knowledge workers tap into their Big Data, the solution features an Explorer tool with pre-built data models and a Modeler that enables statisticians to craft their own algorithms. These two components are supplemented by an automation utility and a Scorer feature that makes it easier for users to work with HANA.
SAP hopes to make in-memory database more appealing with River, a hosted programming environment featuring a proprietary designed language for building data-driven applications. The platform is joined by a HANA service broker for Pivotal's Cloud Foundry PaaS, a Node.js connector, and an open source GUI toolkit for HTML5.
Finally, high availability solutions provider WANdisco announced that its Non-Stop Hadoop software has been certified for use with Cloudera's CDH4 distribution. Based on patented active-active replication technology, the product employs continuously synchronized NameNode servers to nullify the risk of data loss and and split brain scenarios.
About Maria Deutscher
Maria Deutscher is a staff writer for SiliconAngle covering the enterprise cloud space. If you have a story idea or news tip, please send it to @SiliconAngle on Twitter.

View all posts by Maria Deutscher
Continued here:  
Weekly Big Data review: vendors get creative with analytics …