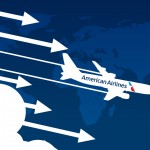 Why American Airlines Group (AAL) Stock Is Trading Down On Monday
Following the release of January traffic numbers, American Airlines stock is trading down on Monday
By:
Published: Feb 9, 2015 at 12:17 pm EST
American Airlines Group Inc (NASDAQ:AAL) stock is trading down by around 3.24% as of 12:04 PM EST, following the release of air traffic results for January on Monday. The airline reported an overall year-over-year (YoY) drop in air traffic for the month.
American Airlines said in a press release that the company experienced a 2.8% YoY decrease in its total revenue passenger miles during the month. Domestic revenue passenger miles decreased by 3.9% YoY, while international revenue passenger miles declined by 3.5% in the same period. The decreasing revenue passenger miles point towards lower demand for the US carriers' service.
The company said that on the basis of the data compiled during the first month of 2015 and forecasted data for the next two months, it believes that the Passenger Revenue per Available Seat Mile (PRASM) would decrease by 2-4% YoY. The company had earlier guided for the same.
The company also increased the fuel cost expectations for the first quarter of 2015 (1QFY15). The increased costs come as a result of the recent recovery in the prices of crude oil. The company increased the fuel cost guidance by 10 cents, from the $1.71-1.76 range to the $1.81-1.76 range. American Airlines said: "As a result, the Company now expects its first quarter pretax margin excluding special items to be approximately 12 percent to 14 percent versus its previous guidance of 13 percent to 15 percent."
The capacity for the airline during the month showed a YoY decrease of around 20 basis points (bps). The load factor, a measure of capacity utilization for airlines, declined by 2.1 percentage points (ppts) to 78.2% during January. The airline was able to have 15.2 million total enplanements during the month, 2% lower than the figure posted in the same quarter last year.
Southwest Airlines Co also reported its January air traffic figures before the market opened on Monday, showing a 6.5% YoY increase in its revenue passenger miles. Southwest stock is trading down by around 2.04% as of 12:07 PM EST. The downward movement of the stock comes as a result of the recovery in the prices of crude oil, with the US benchmark for crude oil prices, West Texas Intermediate (WTI) Crude Oil front month futures, trading up by around 3.1% at $53.31.
More AAL research by Bidness Etc
You might also like this:
Merrill Lynch Downgrades American Express (AXP) StockComments




View article:  
Why American Airlines Group (AAL) Stock Is Trading Down On …