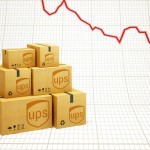 Why United Parcel Service (UPS) Stock Is Trading Down By 10%
UPS stock is trading down by around 10% on Friday, following the release of expectations of disappointing fourth-quarter financial results
By:
Published: Jan 23, 2015 at 10:57 am EST
United Parcel Service, Inc. (NYSE:UPS) released its preliminary fourth-quarter financial results before the market opened on Friday. The company warned investors of lower-than-consensus profits for the quarter, following which the stock is trading down by around 9.58% as of 9:45 AM EST.
The company said in its press release that it was looking for 4Q earnings per share (EPS) of around $1.25, compared to analysts' estimates of $1.466. The EPS guided by the company is flat over that reported in the same quarter last year. The company added that although EPS fell due to increasing costs, but the package volume as in line with what the company had expected.
David Abney, the CEO at UPS said in the press release: "UPS invested heavily to ensure we would provide excellent service during peak when deliveries more than double." Mr. Abney said that the high quality service provided to customers during the year's holiday season "came at a cost to UPS."
The company claimed that even though the initiatives taken by it were able to meet the heightened demand for deliveries on peak days such as Cyber Monday and December 22, the demand for deliveries remained low on other days. The company said that during the peak season it experienced a "decline in productivity, increased contract carrier rates, as well as costs associated with overtime and training hours contributed to the excess cost."
The company believes that the boom in the e-commerce market has changed the dynamics for delivery companies such as UPS. However, the company also said that it is adapting to this changing environment, through a plan which would take the next couple of years.
UPS said that all business segments would show growth during 2015. However, a pension payment of $180 million is expected in 2015, due to lower discount rates, and $50 million in currency headwinds, following which the company now expects 2015 EPS to grow by "slightly less" than the earlier target of 9-13%.
Following the release, the largest competitor for UPS, FedEx, is also trading in the red; the stock, as of 9:45 AM EST, is trading down by around 1.38%.
The company is scheduled to release its earnings report on February 3, 2015. The press release warning the investors of disappointing results can be viewed here.
More UPS research by Bidness Etc
You might also like this:
AOL Inc. (AOL) Restructures Sales StaffComments




Source article: 
Why United Parcel Service (UPS) Stock Is Trading Down By 10%