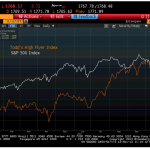 Editor's Note: Todd posts his vibes in real time each day on our Buzz & Banter.
The equity landscape continues to scrape sideways, a continuation of yesterday's price action, as stocks work off the overbought condition as a function of time rather than price. The bears had an opportunity late last week and took a solid downside swipe, but that pressure was dust in the wind, at least thus far.
While market breadth is 2:1 negative today and banks are underperforming, make no mistake: This is the bulls' year-end race to lose. With 34 sessions left in 2013, that loud ticking you hear is the sound of portfolio managers running out of time. With mainstay indices up between 20-30% on the aggregate, the recipe for a long squeeze will remain in place as long as S&P (INDEXSP:.INX) 1730 and Nasdaq (INDEXNASDAQ:.IXIC) 3255 remain underfoot.
My wife and I saw the Eagles last night at Madison Square Garden — we were the younger couple — and I was reminded of a vibe we used to scribe in the 'Ville: "Lighten up while you still can, don't even try to understand. Just find a place to make your stand and take it easy." I first shared that verse in Y2K as I wrote about the dangers of dot-coms and the potential of melting from Nasdaq 5K to "Civil War Levels" (1865), which of course we did.
I didn't know what the precise catalyst would be when I first shared that epiphany; I just sensed something was terribly amiss as stocks galloped higher day after day after day. We've seen a historic buying stampede in 2013 — more than 100 sessions at a stretch — but this year's rally is Joe DiMaggio compared to the Barry Bonds of 2000. Steady and persistent rather than inflated and brazen, to use a crude analogy.
Back then, I traded two-sided and took shots both ways, connecting on downside swoons while positioning for the occasional upside snapper. These days, operating with a personal trading account rather than a $400 million hedge fund, I've been more surgical when I've chosen to carry risk. As my friend Jeff Saut likes to say, "Where you stand is a function of where you sit."
Do I think there is downside risk? There is always downside risk, particularly when most folks don't perceive there to be any. I will note the chart below, which is a 25-year chart of the S&P vs. VXO (INDEXCBOE:VXO) (fear index) and you will note that we are again getting to levels that would suggest a gut check, if not something more. That probability must be weighed against the motivated agendas of scared fund managers who fear losing assets if they don't catch up to their benchmarks. And so it goes.
My trading tells include the high-beta realm as they are the "ketchup candidates" (read: go-to stocks for those looking to get bang for their buck). These include Tesla (NASDAQ:TSLA) — a stock that is down 27% since we asked if it entered bubble territory — Netflix (NASDAQ:NFLX), Apple (NASDAQ:AAPL), Google (NASDAQ:GOOG), LinkedIn (NYSE:LNKD), Chipolte Mexican (NYSE:CMG), Yelp (NYSE:YELP), Priceline (NASDAQ:PCLN) Facebook (NASDAQ:FB), First Solar (NASDAQ:FSLR) and yes, Twitter (NYSE:TWTR).
We created an index of these 10 stocks (ex-Twitter, which just started trading) that we're calling the Hi-Fly Index, which we can use as our performance anxiety proxy into year-end (presumably, they'll outperform if we're going higher and underperform if the worm turns. Look for us to update this throughout the year-end bender, which promises to be a nutty strut.
As always, I hope this finds you well.
R.P.
Twitter: @todd_harrison
Follow Todd and over 30 professional traders as they share their ideas in real-time with a FREE 14 day trial to Buzz & Banter.
Link to original – 
Will High-Flying Tech Stocks Pave The Stock Market Path …
See which stocks are being affected by Social Media