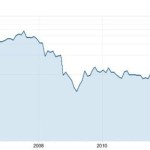 (Editors' Note: This article covers a stock trading at less than $1 per share and/or with less than a $100 million market cap. Please be aware of the risks associated with these stocks.)

Nearly everyone has heard about it, but not many really know what it is. I'm talking about the mysterious digital currency known as Bitcoin. I have always been a gold and silver guy person myself when it came to currencies/stores of value other than the US Dollar. But, with more and more demand, I think Bitcoin deserves a further look. There is literature available widely and I will share with you the highlights that you need to know. Then, I will discuss a play in this space that I think is setting up for both a nice short-term trade and a long-term investment. At its most basic level Bitcoin is an Internet-wide distributed financial ledger. You can buy into it by purchasing one of a fixed number of slots, either with cash or by selling a product and service for Bitcoin. You sell out of it by trading your Bitcoin to someone else who wants to buy-in. It's available to anyone with an internet connection and often there are no or very low fees, though this may change as Bitcoin becomes more mainstream. Bitcoins themselves are simply slots in this ledger. That may be a bit technical so what you need to know is that Bitcoin is simply a kind of payment system on a global scale. Any individual can pay another any amount of value of Bitcoin. It simply means they are transferring ownership of the corresponding Bitcoin slot in the ledger and in this sense Bitcoin is a digital bearer instrument. It is a way to exchange money or assets between parties. If you have the money or the asset, you can pay with it; if you don't, you can't. Unlike credit cards, there are no chargebacks; this is novel as such potential has never existed in digital form before. Thus, Bitcoin is a digital currency, whose value is based directly on speculation on future use of the payment system. Current use has some impact, but like many things in the finance world, it's about expectations for what's to come.
Right now Bitcoin's value is based more on speculation than actual payment and transaction volume. This speculation has resulted in a high price for the digital currency so that real world payments can be made. With the speculation of its real life utility, Bitcoin has skyrocketed in value. Merchants like it, so far. This is because Bitcoin can be used entirely as a payment system because merchants do not need to hold any Bitcoin currency. Anyone, be it the consumer or merchant can trade in and out of Bitcoin and other currencies at any time they want. More and more merchants are accepting Bitcoin. Now it's a matter of developing applicable, user friendly but powerful trading systems. I mentioned that there are no fees, or fees are generally minuscule. A company that could develop a trading platform that earns even small commissions off of Bitcoin exchanges could be a massive success. One such company is WPCS International (WPCS).
Who is WPCS?
WPCS was never a currency company. It was never associated with Bitcoin until the end of 2013 when it acquired BTX trader. Before that, it was an energy and communications company. Established in 2002, WPCS operates globally, providing a comprehensive range of capabilities in wireless communication, specialty construction and electrical power. It provides expertise in the design, project management, installation and maintenance of infrastructure, enabling the deployment of advanced technology, the delivery of information, and the expansion of global economies. WPCS has traditionally focused on the servicing and installation of wireless and technology construction for public service entities, health care services, energy companies and corporate enterprises. And in truth, the company had been struggling. Take a look at the dismal chart in figure 1.
Figure 1. 10 Year Price Chart, WPCS International.
As we can see from the chart, investors have been bled out. The stock has just performed terribly. The company had faced fiscal issues in the past and recently saw the resignation of their accounting firm. WPCS seemed to be in a poor situation. But is the stock setting up for a nice trade now after hitting new 52 week lows? Dare I ask, is this stock now a potential investment? The answer may lie in WPCS' decision to move into the Bitcoin space. Bitcoin is definitely becoming a competing currency. It seems it cannot be stopped at this point, despite regulators attempting to rein it in. WPCS is now changing its focus a bit. While WPCS still provides communications infrastructure and contracting services to the public sector, healthcare, energy and corporate enterprise markets worldwide, it is also developing a Bitcoin trading platform. They are developing the BTX Trader Bitcoin trading platform that can be found here: www.btxtrader.com. According to Interim CEO Sebastian Giordano:
"Though the acquisition was only recently completed on December 17, 2013, we are formalizing our plans and undertaking several initiatives to launch and begin monetizing this exciting opportunity."
Divya Thakur, BTX Chief Technology Officer stated:
"BTX is the first trading platform to enable Bitcoin traders and investors to access market data as well as execute orders for the top six Bitcoin exchanges in a single application. What further differentiates BTX from any other product in the market is the opportunity to be the premier algorithmic trading platform for digital currencies, allowing traders to execute orders and trading strategies not available on other exchanges, such as 'stop limit'; which BTX already offers."
Why The Stock Is Ripe For A Trade
This move is huge for WPCS. It's moving into a revolutionary growth space. Besides core trading functionality the platform will allow one to trade with an institutional-grade user experience as well as access reliable market data and leverage refined market data visualization tools. The stock should get a nice bounce when WPCS announces a continuing stream of functionality enhancements for the system. Over the coming weeks and months, WPCS is expected to announce broader platform accessibility via web and mobile applications. Further it is working diligently to integrate with other exchanges and digital currencies and to add all new features, such as commission estimates and trade tracking.
So when will this product come to market for individuals? WPCS fully anticipates a launch of the BTX platform in the 2nd Quarter of calendar 2014. Currently the stock is at $1.41. It has dropped like a rock in the month of January with a lot of short action. However, when positive news starts rolling out, expect the stock swing much higher as news about the platform is released. While the BTX trader development team works diligently to prepare for launch, WPCS is taking other measures to ensure potential growth of this segment of the business. WPCS has hired New York City-based law firm of Merle, Brown & Nakamura, which has represented numerous money transmitters, check cashers and foreign exchange companies to help plan for future revenue generation and maximization of efficiencies. Further, there will be regulatory hurdles, but I think they can be overcome. Merle, Brown and Nakamura have a seasoned history of success.
More Good News: A World Class Accounting Firm Has Been Hired
We learned yesterday evening (January 30th) that Marcum LLP has been hired by the company to serve as the new accounting firm for WPCS. Established in 1951, Marcum is a leader with an outstanding reputation at the national and regional levels. It is ranked as one of the largest firms in the New York metropolitan area (Crain's New York Business), the greater Philadelphia region (Philadelphia Business Journal), the New England region (Boston Business Journal) and the Southeast (South Florida Business Journal). Marcum LLP is one of the largest independent public accounting and advisory services firms in the nation. In fact it is ranked among the top 20 in the nation. Marcum LLP offers the resources of 1,300 professionals, including over 160 partners, in 22 offices throughout New York, New Jersey, Massachusetts, Connecticut, Rhode Island, Pennsylvania, California, Florida, Grand Cayman and China. Headquartered in New York City, the Firm's presence runs deep with full-service offices strategically located in major business markets. This was the piece of good news that WPCS needed to start forming a real bottom in my opinion. On a day where the Dow, S&P and Nasdaq are down triple digits, WPCS is up over 2%. This stock will trade higher on good news. Look at the frenzy that took place last month when WPCS announced it got into the Bitcoin game. Understand that when BTX trader comes to market and then eventually monetizes the platform, WPCS will only move up. However, the stock is not without risks.
Is WPCS Scarier Than Bitcoin Itself?
An interesting article on TheStreet.com by Dan Freed asked this question. One of the biggest issues is share dilution. This was a result of two hedge funds, Iroquois and Hudson Bay Capital having acquired $4 million of convertible bonds in late 2012. I agree with Freed that at that time the company was dying (look back to figure 1 to see the pain in the stock). Freed outlines that nobody really could grasp the terms of the language of the bond contracts, which were amended several times. However, it became evident that these hedge funds could end up in control of the company. And it was these funds that suggested the move into Bitcoin via the BTX trader application that I believe WILL revive the company and the stock. And then, the massive hit to shareholders equity came. In the last few months new shares have come on due to the bonds, resulting in tons of new shares coming on. Investors were not happy as Freed points out, being diluted so heavily.
This issue brought interim CEO Giordano's credibility to the forefront. He wasn't quite sure how many shares were issued, stating it wasn't over 10 million. WPCS first told us that it had issued 4,153,179 new shares, bringing the float up fourfold. Two weeks later WPCS told us it had issued a total of nearly seven million more shares in three separate transactions, bringing the total share count to just over 12 million shares. Finally, just two weeks ago, WPCS reported it had issued another 1.25 million taking the total to 13,303,622. This is significant dilution! Further, WPCS has another $1 million or so worth of notes that could be converted, suggesting the share count could increase by roughly 4 million to 5 million more. That would require additional authorization, however, since according to WPCS' latest 10-Q it is only authorized to issue 14,285,715 common shares. This issue may have prompted the former auditor to resign, though that's speculation even if the timing suggests it. That said WPCS has now hired a much stronger firm. I don't believe Giordano lost credibility, and neither does Freed. However, the concerns over the control from hedge funds, the share dilution and the need to get the BTX trading platform correct cannot be ignored. That said, this Bitcoin move, as risky as it is, will be what saves the company…or buries it. Given Bitcoin's increasing relevance, my money is on the former, but bringing the platform to market has one more issue.
Even if WPCS gets this to market successfully, can WPCS monetize its Bitcoin trading platform? Yes I think it can but it may not happen immediately. Right now this stock is a traders dream as it will be news driven. Very profitable trades will be made in the next few weeks to months on each piece of news. That is clear, because with such high risk comes potential reward. As in investment, it may take years to see real gains, but I think it can become a real growth company IF it starts pulling in revenues from its Bitcoin trading platform. I see the stock moving to at least $3.00 on the first piece of strong news from the company, as early as mid February. It could move even higher once it starts monetizing its trading platform. It will likely move wildly.
Finally, even without the Bitcoin catalyst and despite the risks and the concerns laid out by Freed, the company did have a significant order backlog in its other segments. When WPCS announced financial results the quarter ending October 31, 2013, WPCS reported a backlog of $25.4 million in orders to fulfill and a bid list of $40.5 million in potential projects. At $1.40 a share, despite the risks, WPCS is offering traders a compelling price. For longer-term investors, monetization of its Bitcoin trading platform is key.
Source:
Trade WPCS International For News-Driven Swings But Invest For Bitcoin Revenue
Disclosure: I have no positions in any stocks mentioned, but may initiate a long position in WPCS over the next 72 hours. I wrote this article myself, and it expresses my own opinions. I am not receiving compensation for it (other than from Seeking Alpha). I have no business relationship with any company whose stock is mentioned in this article. (More…)
Additional disclosure: I am targeting a $1.3500 purchase.
More:
WPCS International Incorporated (WPCS) news: Trade WPCS …
See which stocks are being affected by Social Media