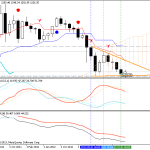 Monthly timeframe – gold is on bearish and it is falt for now. But bearish anyway (and bearish trend for the next future on MN1 timeframe) … and next tagret is $1180
Weekly timeframe is bearish too with the target 1182:
D1 timeframe – primary bearish too with downtrend will be started soon. Price is floating inside the channel of 1248 and 1182 :
H4 timeframe – it is only timeframe with primary bullish trend. But I think – it is ket timeframe because Chinkou Span line (light blue line on the left of the chart) is going to be crossed with historical price – we see it from the chart below. If it will be happened so the gold may break 1182 support line (because Ichimoku cloud is not strong enough to stop the price to go down) and – yes, we may see $1000 :
$1000 may be very possible
==========
Thus, we need to watch H4 timeframe cocerning fundamental news events. Which events?
2014-01-08 19:00 GMT (or 20:00 MQ MT5 time) | [USD – FOMC Meeting]
and
2014-01-10 13:30 GMT (or 14:30 MQ MT5 time) | [USD – Non-Farm Employment Change]
More here:
XAUUSD Technical Analysis 15.12 – 12.01: Ranging – MQL5 forum …
See which stocks are being affected by Social Media