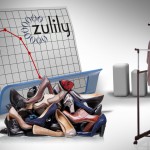 Zulily Inc (ZU) Disappointing Q4 Results Send Stock Trading Down 26%
Zulily stock is down 26% in pre-market trading on Thursday, following the release of disappointing 4Q results
By:
Published: Feb 12, 2015 at 9:03 am EST
Zulily Inc (NASDAQ:ZU) is trading down by around 25.84% as of 7:43 AM EST on Thursday. The selling spree comes as a result of the release of disappointing fourth-quarter fiscal 2014 (4QFY14) after the markets closed on Wednesday.
The e-commerce company reported revenues of $391.3 million, showing a 52% year-over-year (YoY) increase. the figure missed analyst revenue expectations of $406.5 million. The net income for the quarter came in at $10.9 million, compared to the $12.8 million reported in the same quarter the year before.
The earnings per share (EPS) for 4QFY14 came in at 11 cents, missing analysts' estimates of 14.6 cents. The EPS for the quarter showed a 10% YoY increase. Zulily CEO, Darrel Cavens, said in the press release: "Our goal is to build zulily into one of the most innovative and profitable consumer retail internet businesses of our time."
The company also announced its expectations for revenues for the first quarter of 2015 (1QFY15) and full-year 2015 (FY15). The company guided towards revenue in the $300-320 million range for 1QFY15, compared to analysts' estimates of $364.63. For the full year 2015, the company guided for revenues in the $1.5-1.65 billion range, with the higher end of the guidance lower than consensus estimate of $1.762 billion for FY15 revenues.
More ZU research by Bidness Etc
You might also like this:
Ford Motor Company's New F-150 Bags Another Accolade, As Canadians Express Their LoveComments




Follow this link:  
Zulily Inc (ZU) Disappointing Q4 Results Send Stock Trading Down …