Learn How Social Media is Impacting Your Stocks
Social Media is incredibly accurate!
Today as individual investors, fund managers and hedge funds increasingly turn to social media for reliable financial insight, they're implementing high end technologies to navigate the enormous amount of social media messages. HedgeChatter provides an all-in-one platform which finds REAL-TIME Insights, using Social Media Stock Sentiment Analysis, to generate high yielding Social Alerts on the next market movers.
164,000+ People are talking about stocks every day.
What's about to happen? We'll show you.
Our Platform Processes 1,895,432 Real-Time Social Media Financial Chat Messages Every Day
---
our Features
Stocks by Social Chatter Volume
Instantly see the most chatted stocks over the past 24hrs and trending now.
Stocks by Sentiment Volume
View stocks ranked by sentiment volume (Strong Buy, Buy, Hold, Sell, Strong Sell)
Top Positive Sentiment Leaders
See the most positively chatted stocks Trending Now and over the Past 24 hrs.
Top Negative Sentiment Leaders
See the most Negatively chatted stocks Trending Now and over the Past 24 hrs
Stocks w/Accelerating Positive Sentiment
View stocks with rapid acceleration in overall Positive social media stock sentiment.
Stocks w/Accelerating Negative Sentiment
View the stocks with rapid acceleration in overall Negative social media stock sentiment.
Sentiment Analysis
Understand how changes in sentiment are a leading indictor stock price direction. Compare multiple dates and view the results.
Manipulation Analysis
Instantly view # of Validated Chatter msgs Vs. # of Spam/Deception msgs. Avoid manipulation hype and focus on true market direction.
Top Stocks by News Volume
This is the only place to find the stocks with the most news coverage spanning the globe vs. only what the media focuses on.
Spikes in News Coverage
Know which stocks are currently accelerating with massive amounts of global news coverage before the media discovers it.
Top Stocks by Twitter Volume
See what the 44,519 active twitter stock focused users are talking about. Ranked by tweet volume.
Stocks with Spike in Tweets
View which stocks are having a rapid spike in tweets both Trending Now and over the Past 24hrs.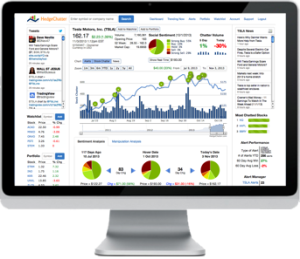 and Insights...
---
HedgeChatter is the Global Leader in Stock Sentiment...
1,100 customers in 9 countries use HedgeChatter. You may have seen us on:
Social Chatter Moves Markets
High above the Alps my Gnome is hearing a rumor that Apple will announce a stock split at tomorrow's shareholder meeting. $AAPL

Gross: Next Jackson Hole in August will likely hint at QE3/interest rate caps

Audience noise suppression company being investigated by DOJ on rumored fraud charges Full report to follow later

We currently have a large position in APPLE. We believe the company to be extremely undervalued. Spoke to Tim Cook today. More to come.