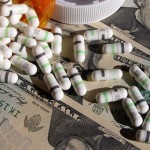 Source: StockMonkeys.com via Flickr.
It's been a truly transformative year for Gilead Sciences and its shareholders. Even taking into consideration the latest swoon in Gilead's share price tied to the approval of AbbVie 's Viekira Pak and its subsequent multi-year agreement with Express Scripts , Gilead shares are up 25% for the year, essentially doubling the return of the S&P 500 .
Sovaldi pill. Source: Gilead Sciences.
The impetus for Gilead's top-notch performance was the approval and rapid acceptance of its two hepatitis C drugs, Sovaldi and Harvoni. Sovaldi is an oral pill that can be administered without the need for interferon in genotype 2 & 3 HCV patients, and it's on track to net more than $10 billion in revenue in its first year on the market. Harvoni is Gilead's cocktail drug combining Sovaldi and ledipasvir that is designed to treat genotype 1 patients without the need for interferon or a ribavirin. From a quality of care perspective, Harvoni is set to improve the treatment process, as well as the cure rate from the prior standard of treatment, by leaps and bounds.
The result of this surge in revenue — and the $1,000 per pill price tag for Sovaldi and $1,125 per pill price for Harvoni — has been a sizable expansion in Gilead's profit margin to 45.5% over the trailing 12-month period.
Yet, three biotech stocks actually have a higher profit margin than Gilead, even with its highly profitable blockbuster HCV duo. Let's take a quick look at the three companies which have been able to turn their revenue into more bountiful profits than Gilead over the trailing 12-month period and determine whether or not their profit margins are sustainable.
1. PDL BioPharma
Of the three biotech stocks on this list, PDL BioPharma should be the only non-surprise of the bunch because it isn't exactly a traditional biotech company. Instead, PDL BioPharma earns its keep by monetizing its intellectual property and earning royalties on the use of its IP. The advantage of a business model like this is it often has very low ongoing expenses with the exception of purchasing additional royalties should its management choose to do so. Based on its results over the previous 12-month period, PDL BioPharma has a profit margin of a delectable 70.5%!
Source: PDL BioPharma.
However, all is not what it appears . Even though PDL has minimal costs, it doesn't necessarily have a long-term business model in place. The problem is that patented drugs only have a protected shelf life of a few years to perhaps a little over a decade, meaning PDL has to regularly replace its royalty revenue stream or it risks the end of its existing business model. If PDL is unsuccessful in raising adequate funds to execute the purchase of new royalty streams, the business will simply cease to exist. In other words, while PDL's profit margin is higher, Gilead's diversified business still looks like a safer bet.
2. Enanta Pharmaceuticals
Enanta Pharmaceuticals is far from a household name in the biotech sector, despite having collaborated with AbbVie to help develop one of the approved components of HCV combo drug Viekira Pak. Because of its projected royalties from the sale of Viekira Pak, the thought is that Enanta's sales should see royalty revenue grow substantially in the coming years.
Source: CDCFoundation.org.
In the meantime, Enanta is on pace to benefit from milestone payments in a big way. After receiving two milestone payments of $20 million just for the regulatory submission of Viekira Pak in the EU and U.S., Enanta will recognize $75 million in the upcoming quarter tied to the approval of Viekira Pak in the U.S., and will likely receive a similar milestone payment if the combo drug is approved in Europe. Milestone payments have the effect of dramatically boosting profit margins since there are often few expenses behind those payments.
The question is whether or not Enanta's profit margin can sustainably remain higher than Gilead Sciences'. I believe that even after we get past these juicy milestone payments, Enanta will remain at a profit margin in excess of 50%. Unless management chooses to dramatically boost its research and development spending, Enanta could coast for a few years on its extremely high profit margins.
3. Adamas Pharmaceuticals
Lastly, we have small-cap biotech stock Adamas Pharmaceuticals which pretty much was an unknown biotech stock until last week when the Food and Drug Administration approved Namzaric, an extended release medication that combines Namenda XR and Aricept into a single pill.
Source: Centers for Disease Control and Prevention.
Developed in collaboration with Actavis , Namzaric will be marketed as a new treatment for moderate-to-severe dementia associated with Alzheimer's disease. Actavis will hold all commercial rights to the drug within the United States, while Adamas maintains the exclusive rights outside the U.S. (assuming the pill gains approval in non-U.S. markets).
For Adamas, a $25 million milestone development and expense reimbursement in Q2 has been the impetus that's really propelled its profit margin higher to a current trailing 12-month level of 47.9%. However, losses are expected to continue until Namzaric is approved overseas and the company can officially launch the drug. It's possible that sales of Namzaric could eventually propel Adamas' profit margin to levels that are sustainably higher than Gilead Sciences, but the reality is this scenario is probably five or more years out from occurring. Relative to Adamas, Gilead remains the profit margin king of biotech.
Ultimately, Gilead's high profit margins still look the most sustainable of this group, and of these three, Enanta Pharmaceuticals is the only one that could give Gilead a literal run for its money.
If you think Gilead is an impressive company, then you're going to love this one great healthcare stock for 2015 and beyond
Healthcare stocks soared in 2014, and 2015 is shaping up to be another great year for stocks. But if you want to make sure you're buying one of the best healthcare stocks, ;you need to know where to start. That's why The Motley Fool's chief investment officer just published a brand-new research report that reveals his top stock for the year ahead. To get the full story on this year's stock — completely free ;– simply click here .
The article 3 Biotech Stocks With a Higher Profit Margin Than Gilead Sciences, Inc. originally appeared on Fool.com.
Sean Williams ;has no material interest in any companies mentioned in this article. You can follow him on CAPS under the screen name TMFUltraLong , track every pick he makes under the screen name TrackUltraLong , and check him out on Twitter, where he goes by the handle @TMFUltraLong .The Motley Fool owns shares of and recommends Express Scripts and Gilead Sciences. Try any of our Foolish newsletter services free for 30 days . We Fools may not all hold the same opinions, but we all believe that considering a diverse range of insights makes us better investors. The Motley Fool has a disclosure policy .
Copyright © 1995 – 2015 The Motley Fool, LLC. All rights reserved. The Motley Fool has a disclosure policy .
The views and opinions expressed herein are the views and opinions of the author and do not necessarily reflect those of The NASDAQ OMX Group, Inc.
Link to article:  
3 Biotech Stocks With a Higher Profit Margin Than Gilead Sciences, Inc.