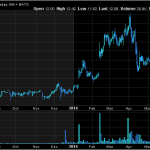 Follow the money. The big money.
When large, financial institutions become interested in a stock, they can push it higher with their large block orders. When other institutions jump on board, a stock can really take off.
However, when large institutions decide to exit, that can have a damaging affect on the stock.
Large institutions have greater access to company information than the retail investor every will.
So, since biotech stocks are commonly driven by company information about upcoming drug releases, patents, or FDA approvals, following the flow of institutional money into certain biotech stocks could give the average investor some insight into potential future movement of those stocks.
Below are the four biotech stocks with stocks with the greatest increase in institutional ownership from prior quarter to current:
The first stock on the list is Retrophin (NASDAQ: RTRX).
The stock has had a whopping 92 percent increase in institutional ownership since last quarter. After peaking around $24.00 (and getting crushed thereafter), traders can almost see the money start to come in on the volume chart below.
Next up, Ohr Pharmaceuticals (NASDAQ: OHRP) has seen an increase in ownership of 87 percent.
The money started to trickle in on Ohr at the turn of the year and has exploded in the last week.
Third on our list would be Inovio Pharmaceuticals (NYSE: INO). Institutions have increased their ownership from last quarter by 50 percent.
This stock is approaching the same $12.00 level that it has stalled at five different times this year. Does it finally have the wind at its back, poised to pop again?
And last, but not least, Arrowhead Research (NASDAQ: ARWR) has had big money flow into it to the tune of an almost a 39 percent jump.
When you look at Arrowhead's recent run from $10.00 to $16.00 you can see the volume increase along the way.
So, there you have it, a handful of biotech stocks with institutional money increasing rapidly over the last quarter.
Link: 
4 Biotech Stocks With Big Money Coming In | Benzinga