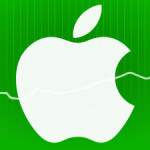 The market likes what Apple reported today, sending its share up more than 7% in after-hours trading. The company reported an earnings beat today, with $45.6 billion in revenue, $10.2 billion in net profit, or $11.62 in earnings per share. Analysts had expected Apple to report $10.18 in profit per share, and revenue of under $44 billion.
The company also reported that it will execute a stock split, increase its dividend by 8%, and also increase its share buyback program by $30 billion, to a total of $90 billion.
Slowing revenue growth has some worried about the company's momentum, and its year-over-year sales decline in iPads isn't sunny, but investors are enthused about the company's larger position. Up go the shares.
Roughly calculating, the firm's $38.91 dollar price spike in its value is worth around $34 billion dollars.
Source article:
Apple's Stock Surges In After-Hours Trading Following Earnings …