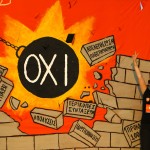 AP Photo/Petros KaradjiasA demonstrator makes the victory sign in front of a banner, depicting a wrecking ball reading "NO" and destroying a wall with anti-austerity measures during a rally in Athens, Friday, June 10, 2015.
The Greek stock market is about to reopen for the first time in five weeks. It's been closed since the beginning of the country's capital controls and the announcement of the bailout referendum.
When it opens it's likely to crash, reflecting weeks of extra economic damage that will make any real recovery harder for Greece's listed businesses. 
The BBC says it spoke to one fund manager who's bracing for a 20% plunge.
Now, though Greece has agreed a bailout deal with its European creditors there's still a huge amount of uncertainty. 
Prime Minister Alexis Tsipras is having to drag parts of his own party, Syriza, kicking and screaming through the agreement. The country must now make painful economic reforms, and has agreed to privatise ten times as many state assets as the country had already.
What's more, last week the International Monetary Fund (IMF) made it clear that there'd be no involvement from them without up-front debt reduction being on the table — Greece's European creditors want debt reductions to be contingent on the country's success in those incredibly difficult reforms.
Here's how the Athens stock market performed up until late June, when it was paused. We'll update you as the market opens this morning:
Investing.com, Business Insider
Please enable Javascript to watch this video
Link to original:  
Athens stock market reopening after five weeks of Greek crisis …