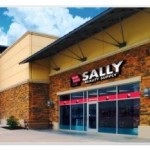 Denton-based Sally Beauty Holdings reported improved quarterly sales and reversed the sales declines from last summer and fall at its namesake stores.
Total sales increased 3.9 percent to $940.5 million in the company's fiscal first quarter that ended Dec. 31. Same-store sales increased 2 percent from a year ago and increased 0.9 percent at its chain of 3,444 Sally Beauty Supply stores.
Shares of the company were trading as much as 10 percent higher this morning.
The company's wholesale division, which sells directly to salons, had a stronger 5.2 percent same-store sales increase.
First quarter profit fell 1.7 percent to $58 million, or 35 cents a share, compared with a profit of $59 million, or 32 cents a share a year ago. Earnings per share was higher because the company bought back some of its own stock over the past year.
Analysts surveyed by Thomson Reuters had forecast a profit of 36 cents a share, but the company beat the forecast for sales to be up 3.1 percent to $933 million.
CEO Gary Winterhalter said Sally Beauty Supply had more customer traffic. The company beefed up its marketing and introduced new brands, and he believes those efforts will continue to inspire shoppers to make more visits.
This entry was posted in Retail by Maria Halkias. Bookmark the permalink.
View post:  
Denton-based retailer Sally Beauty reports improved results; stock …