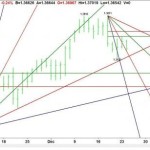 Get Forex buy/sell signals directly to your email and by SMS.
Daily EUR/USD Technical Analysis
The EUR/USD is trading lower at the mid-session after taking out yesterday's low. The short-term range is 1.3811 to 1.3625, making 1.3718 to 1.3740 the next potential upside target. The lower or 50% level at 1.3718 was tested on Monday when the market reached a high at 1.3708. Sellers showed up at this price to drive the market lower.
A new minor range has been created between 1.3625 and 1.3708, creating a small retracement zone and potential downside target at 1.3667 to 1.3676.
The major support angle is at 1.3625 today. This angle is moving up .001 from the 1.3295 formed on November 11.
Although there is a downward bias today, volume and volatility are expected to be light because of the holiday.
Hourly EUR/USD Technical Analysis
The main trend is down on the hourly chart. The main trend will turn up on the hourly EUR/USD chart when 1.3685 is taken out with conviction.
The short-term range is 1.3625 to 1.3716. This created a retracement zone at 1.3670 to 1.3660. This zone is currently being tested. A sustained move through the 61.8% Fibonacci level at 1.3660 should add to the weakness while a fast break out over the 50% level could trigger a late session short-covering rally.
The market is currently straddling a downtrending angle from the 1.3716 top at 1.3656 this hour and 1.3654 the next. On the upside, a breakout over 1.3670 could trigger a quick rally into a slower-moving downtrending angle at 1.3686 and 1.3685.
Because of the low volume and volatility, those trading today under light conditions have to be careful about getting caught inside the 1.3670 to 1.3660 retracement zone. A choppy, directionless trade could lead to frustration.
See original article here: 
EUR/USD Mid-Session Technical Analysis for December 24, 2013 …
See which stocks are being affected by Social Media