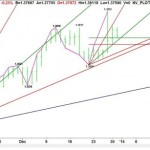 Get Forex buy/sell signals directly to your email and by SMS.
Daily EUR/USD Technical Analysis
The EUR/USD is trading lower at the mid-session. Volume is light because of the holiday trade.
The main trend is up on the daily chart. The main range is 1.3624 to 1.3892. This forms a retracement zone at 1.3758 to 1.3726. This zone stopped the break on Monday and is providing some light support today.
The main Gann angle to watch today is an uptrending angle from the 1.3624 bottom, moving up .002 per day. This angle is at 1.3744 today. It actually pierces the retracement zone, forming a loose support cluster.
A failure to hold the first angle could trigger an eventual break into another angle at 1.3684. Breaking through this angle will put the market in a weak position and could attract fresh shorting pressure.
Hourly EUR/USD Technical Analysis
The main trend is down on the hourly chart. The main trend turned down when the swing bottom was taken out at 1.3791. The new main top is 1.3794. The main trend will turn up when this top is taken out.
For several hours, the EUR/USD has been straddling a pair up slow-moving, uptrending Gann angles at 1.3772 and 1.3777. A failure to hold this pair of angles should trigger an acceleration to the downside.
The main range is 1.3654 to 1.3893. This makes the retracement zone at 1.3773 to 1.3745 an important support zone. At the mid-session, the market is crossing over to the weak side of the 50% level at 1.3773. Taking out the swing bottom at 1.3759 should trigger a break into the Fibonacci level at 1.3745.
Link to original – 
EUR/USD Mid-Session Technical Analysis for December 31, 2013 …
See which stocks are being affected by Social Media