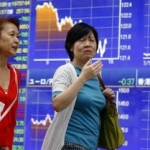 At the risk of being considered a Pollyanna or a perma bull, of which I'm neither, I think we are going up hard soon.  Now I know said the technicals were in the bulls favor after yesterdays bullish reversal, and they were, but then the most advertised and telegraphed Black Swan happened….China.
Greece is still front and center and the NYSE was shut down for most of the day today, so it was really impossible for the market to put in any kind of bullish follow through day.
China on the other hand is not doing capitalism well, at least as it relates to their markets. If you didn't think it was a bubble then you might after this. Regulators increased the kinds of assets that can be used as collateral to buy stocks, to include — drum roll- people's homes.  I guess its not much different than folks who took out home equity to buy the top of  our tech bubble in 2000.
The year so far has been a non event with the exception of biotech, although IBB had a really bad day today down about 3%.
Nasdaq Composite +3.7% YTD
Russell 2000 +1.9% YTD
S&P 500 -0.6% YTD
Dow Jones Industrial Average -1.7% YTD
Technicals and other assorted items:
*** 2040 is still holding
*** the put/call ratio is the highest since Oct 13. When this happened in October we had one more day of pain and then rallied 250 S&P points.
*** The McClellan oversold/overbought indicator could have imploded today but didn't. Tells me we are near oversold.
*** Relative strength on the indices are in the mid high 30's.  I'd like to see it closer to 30 but it just may be close enough.
Stay positive and don't take any wooden bitcoins.
See you in the morning.
Taken from:  
Greece Passes The Stress Baton To China
See which stocks are being affected by Social Media