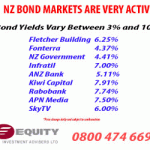 MARKET CLOSE: NZ stocks rise, on Xero's NYSE listing plans, Telecom climbs to 2008 highs
Thursday 24th July 2014
New Zealand shares rose, paced by Xero after the cloud-based accounting software firm said it is mulling a New York listing where shares in Facebook and Apple have rebounded. Telecom Corp rose to the highest since it spun out Chorus, as the deadline for the network provider's regulated price cuts looms.
The NZX 50 Index rose 28.182 points, or 0.5 percent, to 5174.712. Within the index, 34 stocks rose, 11 fell and five were unchanged. Turnover was $111 million.
Overnight on Wall Street, the tech-heavy Nasdaq Composite Index rose, after computer company Apple said profits gained for the second consecutive quarter, while social media business Facebook said second quarter sales beat estimates, sending its shares to an all time high. The positive sentiment towards growth stocks, which have come under selling pressure in recent months, flowed through to the local tech sector.
Pacific Edge, the biotech company, led the index higher, climbing 6.1 percent to 70 cents.
"Some of the good results over night in that technology and social media space have caused some positive sentiment to come back into the market when it comes to the high growth stocks," said Mark Lister, head of research at Craigs Investment Partners. "Stocks like Facebook in the US have been moving in a similar way to Xero and Pacific Edge, had a great run up and then sort of fell back and have been as equally as volatile. I wouldn't necessarily say it's onwards and upwards from here, or all the volatility is over though."
Xero advanced 4.3 percent to $24.50. At its annual general meeting in Wellington yesterday it forecast sales to grow 80 percent this financial year, without naming a dollar figure, and tipped a New York stock exchange listing would be on the cards once it eclipsed $100 million in annual revenue. Last year the company turned over $70.1 million, implying turnover in New Zealand dollars in the current financial year of around $126 million.
Telecom rose 1 percent to $2.93, and has advanced some 10 percent this month. In October 2011, New Zealand's largest telecommunications provider split Chorus out into a separate network building company, lumping it with the regulatory, slow growth sides of the business, said Lister. Telecom is the single largest buyer of Chorus' services, including how much it can charge for its copper lines which the Commerce Commission will decide on final pricing for in December.
Chorus rose 0.6 percent to $1.665, and has fallen some 51 percent since November 2012, when the commission first revised its pricing.
"Telecom has been a good performer over the last couple of years, in stark contrast to Chorus," Lister said. "All the bad business things ended up in Chorus, and the current Telecom, in its current guise free of some of the burdens it had against it when it was an integrated company."
News that Oceania Group, a retirement village operator is looking to join the bourse in the fourth quarter has seen investors make room in their portfolio by selling its already listed rivals, Lister said. Metlifecare dropped 2.7 percent to $4.28. Summerset Group Holdings fell 1.6 percent to $3.12 and Ryman Healthcare slipped 0.7 percent to $8.14.
Fletcher Building, New Zealand's largest listed company, rose 0.9 percent to $9.15. Auckland International Airport climbed 0.8 percent to $3.81.
OceanaGold was the worst performer on the day, falling 5.1 percent to $3.70.
Outside the benchmark index, ikeGPS, which debuted on the NZX below its offer price of $1.10 yesterday, advanced 2 percent to $1.01.
BusinessDesk.co.nz
---
---
Comments from our readers
No comments yet
Add your comment:
Related News
Carbon tax axe will boost Australian renewables, says Trustpower
Kiwibank exits Goodman Property's $600 mln lending syndicate
NZ businesses still upbeat, confidence on the wane
UPDATED: Scales shares edge lower on NZX debut raising $30M of new capital to repay debt
Scales shares edge up 0.6% on NZX debut
Astro Japan Property (AJA)
Regulator clears ASX-listed InvoCare unit to buy Christchurch crematorium
Auckland Airport cuts fine deal in US$250M bond issue
NZ dollar keeps falling, touches fresh six-week low
Chorus suspends dividend payments, tweaks banking covenants
Previous News
Carbon tax axe will boost Australian renewables, says Trustpower
Kiwibank exits Goodman Property's $600 mln lending syndicate
NZ businesses still upbeat, confidence on the wane
UPDATED: Scales shares edge lower on NZX debut raising $30M of new capital to repay debt
Scales shares edge up 0.6% on NZX debut
Regulator clears ASX-listed InvoCare unit to buy Christchurch crematorium
Auckland Airport cuts fine deal in US$250M bond issue
NZ dollar keeps falling, touches fresh six-week low
Chorus suspends dividend payments, tweaks banking covenants
While you were sleeping: Wall Street edges to record
RSS feeds »
Twitter »
Facebook »
Most Commented On
TPP risks a weaker global trading system, says ex-WTO head
Kirkcaldie to sell Harbour City property in single sale
Chorus suspends dividend payments, tweaks banking covenants
NZ house sales fall in June, led by cheaper properties
Please Enable Javascript for this Finance widget to work
NZX 15 Index
See original article:  
MARKET CLOSE: NZ stocks rise, on Xero's NYSE listing plans …