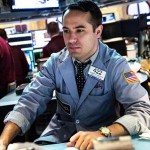 Getty Images
Traders on the floor of the New York Stock Exchange.
The small cap Russell 2000 just can't get any love, and a good strategy could be to short it.
Stocks were higher Monday, but analysts are negative on small caps, which are still trading at higher valuations than large caps even after falling nearly 4 percent last week.
Oppenheimer Asset Management technician Ari Wald says a good short-term strategy would be to short the Russell and stay long the S&P 500. Long-term investors should hold the S&P 500 since it should perform better in a market correction, he recommends.
"Small caps did well in the last few years. In the last couple of months, we've seen the trend toward big caps," Wald said.
Read MoreVolatility should remain elevated, small caps at most risk
The Russell saw its worst weekly performance in two years last week, and analysts expect more losses.
"The Russell is the only one of the four major indices that didn't confirm by closing at a new high. We traded intra-day above the 1212 level but didn't close above it. That is what I think led to a negative divergence selloff last week," said Paul LaRosa, market technician at Maxim Group.
Wald said the Russell's behavior does not necessary mean the broader market is setting up for a correction. "If you want to pick up on this one market, it's troublesome," he said. "The overall market isn't as bad as the divergence is suggesting."
Wald said there are positive signs, such as improving advanced/decline line on the NYSE. "Leadership is very strong, and we haven't seen leadership into mega cap names. If you were expecting a market top, you would be expecting mega caps to be leading," he said.
Read MoreHow to find pockets of small-cap growth: Pro
It's not clear whether the Russell, like the proverbial canary in the coal mine, is signaling trouble.
"Maybe it maintains its range and underperforms the S&P 500, which maintains an uptrend…. You still want to be in what's working, and that's the S&P 500. I think the bull market is intact. I'm more bullish than bearish," he said.
LaRosa said he does not see the market moving sustainably higher at this point. "I don't think this is a market where you drain all the bank accounts and go buy the SPYs (S&P 500 ETF)," he said. "There was a head and shoulders forming in the Russell, which still could be there. It's definitely possible the market goes lower. There's always a reason. We're in earnings season. It has been the weakest of the major indices, and it was the one that refused to confirm the uptrend."
—By CNBC's Patti Domm
Original link – 
Meet the most hated part of the stock market – CNBC.com
See which stocks are being affected by Social Media