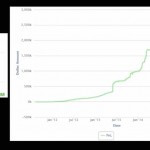 URGENT: Today is the FINAL day to save $1,000 by pre-ordering your copy HERE of 'Trading Tickers'…only a few spots left for Tim Grittani's one-time only live trading webinar too…no more extensions, no whining after today, you have 24 hours from the time this blog post is published, go HERE, save a ton of money and get ready to learn from the single best DVD ever created when it's ready August 1st, 2015
I've been meaning to post my full review of my top student Tim Grittani's 16-hour DVD study guide 'Trading Tickers' which will be ready August 1st, it's just that it's difficult for me to put all my thoughts down in one blog post since I'm so excited, awestruck, amazed, pumped up, proud, shocked, stunned and every other word you can imagine because this is a 26-year-old guy who has not just turned a few thousand dollars into $2.7 million in 4 years, and remember that nobody else in the world has that kind of track record the past few years, but now has worked for the past 7 months on creating this study guide that is the single most useful educational tool ever created for traders.
But given that there is only 24 hours left to save $1,000 by pre-ordering the DVD guide HERE, and reserving your spot for a bonus one-time-inly live trading webinar Tim G. will be doing in the next few weeks, I have no more time to waste because you'll kill me if I didn't tell you or crucial it was to watch this study guide and save a bunch of money by pre-ordering it today, not in a few days or next week when the price jumps and there are no more spots left on his live trading webinar.
Sure, sure I'm publishing the DVD so I'm biased and if you remember Tim Grittani and I were featured HERE on CNN and HERE on FOX and HERE on FOX & Friends and his roughly two dozen webinars HERE exclusively for trading challenge students are what every students looks forward to watching, but aside from all that my life mission is to create more millionaire students and get them to have profit charts that look like this:
And Tim Grittani's DVD 'Trading Tickers' will get students there because Tim G. goes over EVERY step he took to turn $1,500 of his own money into now $2.7 million in just 4 years even including his losses, all the basics, brokers, tactics, rules, patterns, lessons, mistakes, successes, position sizing, risk management, when not to trade (a sorely lacking skill in far too many wannabe traders), Level 2 analysis (the single best explanations/examples I've ever seen, far superior to my attempt HERE)
The best part of this study guide by far are the 35 live trades — and I'm getting him to include a fe more bonus trade reviews too…like when he made $200,000+ in one day which he outlined HERE.
Here's an example of one of his live trades and I think it's so useful to hear his play-by-play so you feel like you're actually in the trade with him and that's best for learning how to prepare for future trades:
I also made a quick video review of this DVD here:
I was going to write a detailed review, but frankly I just don't have time before our $1,000 off sale ends tomorrow, I'm giving my weekly trading challenge webinar in an hour and I have an interview in 20 minutes with one of the most respected journalists of all-time (we'll post the interview publicly soon, get excited!)
The number one problem I see new and beginner traders having is they have no idea how to find stocks, choose the right amount of shares that's appropriate for their account size, manage the risk/reward on their trades, choose only the best trades while ignoring much of the junk out there and most importantly gradually grow their account or God willing, grow their account exponentially.
As you can tell there's a lot that goes into becoming a successful trader and while it might seem overwhelming at first, once you learn the rules and patterns, it gets so easy it's scary, but you must get to that knowledge point or else you risk losing unnecessary money and unnecessary time trying to get on the right track and most people give up long before they ever put themselves into a solid position to succeed.
This 16-hour study guide will teach you EVERYTHING you need to know how to build a four or five figure account into six or even seven figures within a few years. Tim Gittani's track record is even better than my first 4 years — when I turned $12,415 into $1.65 million — and this DVD is a MUST WATCH guide that complements these other crucial study guides and I can't encourage you enough to invest a little time and money into your education since knowledge pays exponential dividends once you implement it into your own trading and you will have better odds of success on every single trade/investment in the future once you have Tim Grittani's trade framework/rules in your head.
Go here, pre-order 'Trading Tickers', save $1,000 off the regular price and reserve your spot for Tim Grittani's one-time-only live trading webinar and you can thank me later!
See more here:
My Review Of 'Trading Tickers' The Best Stock Trading Guide Ever …