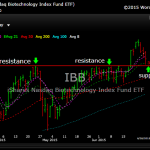 After slamming through the spike high a week and a half ago, the IBB has now pulled back to test the breakout. Bottom line, that resistance has now become support.
Most of the solar system is calling a bubble here, so its always good theater, and it makes every day interesting.  A couple of things here can make you go to the bubble camp, or at east move the possibility from the back of your mind to the front.  For instance, just about two months ago, Barclays "started" coverage on the biotech group. Really? Late much?
Also, your favorite degenerate stock trading etf, Direxion, started a new uber long bio etf last month (LABU).  This a 3 timer.  As if you don't have enough risk trading a pre-clinical biotech stock with a billion dollar valuation already. LOL.
And this bad boy (MCRB) went public on Friday, it IPO'd at 18 and traded to 50.  Evidently they analyze feces.  Good times.
My takeaway is that the bulls will continue to play the momentum to the upside through year end and I think this will be supported by M&A.  Probably a fair amount of it.  The second half also offers the possibility of some big drug approvals as well.
To see how we are playing this scenario I would ask you to become a Premium Member.  As a member, you will receive in depth video analysis, transparent profit and loss daily. New recommendations include entries, stops and when to sell.  You are also invited to join my daily live trading room as part of your subscription.
Upsidetrader.com is a global online financial newsletter that delivers long and short trading ideas to investors in all sectors of the market. The focus is on identifying and analyzing stocks that are grossly over- or under-valued. We offer regular market coverage, actionable research, and a free newsletter to investors who subscribe on Upsidetrader.com
Subscribers are directed to use the portfolio of picks and the 5-times-weekly subscriber commentary as guidelines in investment decision-making. Thousands of stocks are scanned through daily to match each of the technical indicators for potentially explosive growth.
View article – 
Resistance Is Now Support For Biotech
See which stocks are being affected by Social Media