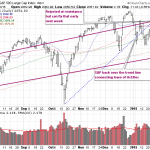 Friday was a generally quiet session until the closing 90 minutes when sellers came in; the S&P 500 fell 0.55% while the NASDAQ gained 0.16%.  A pretty significant warning by shipper UPS might be something to watch for an economic perspective – this is a company that moves a lot of goods around the country.  Maybe it was just specific to the Christmas season but if there is another warning down the road it could be something bigger.  In economic news, the National Association of Realtors said on Friday existing home sales increased 2.4% to an annual rate of 5.04 million units last month.  Economists had forecast sales rising to a 5.06-million-unit pace.  For all of 2014, existing home sales fell 3.1% to 4.93 million. That was the first annual drop since 2010.
We kind of have a mixed bag on the indexes as you can see below.  We said Thursday a nice follow through day on the indexes Friday would probably give us the green light to be much more constructive on the indexes for the intermediate term.  So we had a decent day on the NASDAQ but the S&P 500 was rejected at resistance.  All is not lost and a positive start to next week can have us on our merry way still.  Watch the 2060 level Monday and Tuesday; a close back above that level should bode well.
Still in decent shape on the NYSE McClellan Oscillator.
Oil is trying to rebound but thus far no go.  The Saudi king had passed away and normally the market reaction would be to knee jerk oil higher overnight and while oil did pop a bit that rally was sold.  We have made some attempts here to get over an incredibly steep downtrend line but we can see oil cannot even get back over the 20 day moving average which is critical to change a trend.
Google (GOOG) continues to follow up on its reversal.
LinkedIn (LNKD) also is reversing here.
UPS (UPS) dropped after the shipper warned fourth-quarter profits would come in below expectations.  This was the largest one day drop since 2006 as an overexpanded program to handle a deluge of holiday shipments left its network underutilized on some other days.
McDonald's (MCD) declined after the fast-food chain reported a 7.3% decline in quarterly sales.
With the European Central Bank decision behind us, the focus should return to earnings next week as we are now in the heart of earnings season.  Again, make sure to know when YOUR stocks report earnings as those days are usually very volatile.  See you next week.
View this article – 
STTG Market Recap Jan 23, 2015 – Stock Trading To Go