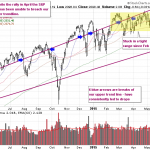 While the closing print on the U.S. indexes were near unchanged it was a disappointing day in the lens of a big gap up in the morning that was sold off.   The S&P 500 fell 0.03% while the NASDAQ gained 0.11%.  Retail sales data for April was flat, with the ex-autos figure up just 0.1 percent, below estimates of a 0.5 percent gain. Expectations were for the data to show modest growth, partly due to the warmer weather.  Following the retail sales data, JPMorgan lowered its expectations for second-quarter real annualized GDP growth to 2.0 percent from 2.5 percent.
Here are the longer term charts for the indexes.  We can take a bearish or bullish view – for bulls after a big run the market is consolidating nicely since February; for bears the market has not been able to make any progress for a few months.
Precious metals have been going nowhere for  a long time but both gold and silver made nice moves today – we'll see if they can build on this which has not been the case in recent times.
It is also worth noting copper is building a nice bull flag – so along with oil maybe the worst is over for commodities? If this was a stock chart it would be one you'd love to get positioned it – commodities are always more tricky.
Here are some charts via Marketsmith:
Network giant Cisco Systems (CSCO) reported after the bell and while there were slight misses on EPS and revenue the stock is not reacting much in after hours.  Sales in the quarter ended April 25 increased 5.1 percent to $12.1 billion, with profit before certain costs of 54 cents a share. Analysts projected sales of $12.07 billion and profit of 53 cents, according to the average of estimates.
Macy's (M) posted earnings that missed expectations, citing negative factors of West Coast port issues, winter weather and decreased spending by international tourists. The firm increased its dividend by 15 percent and raised its share repurchase authorization by $1.5 billion.  This is very interesting and shows the effect the dollar can have on companies:
Among the factors that dented the company's sales in the first quarter was international tourism, Chief Financial Officer Karen Hoguet said during a conference call. International tourism-which accounts for about 5 percent of Macy's annual sales, and plays the biggest role at its New York, Las Vegas and other flagship locations-hurt same-store sales growth by 1 full percentage point.
Resmed (RMD) sunk after the sleep disorder treatment manufacturer provided an update on its Phase III study of SERVE-HF, an adaptive servo-ventilation (ASV) therapy, in central sleep apnea and chronic heart failure.
The company announced that SERVE-HF did not meet its primary endpoint in the study. ResMed designed the study to assess if treatment of moderate to severe predominant central sleep apnea with ASV therapy could reduce mortality and morbidity in patients with symptomatic chronic heart failure in addition to optimized medical care.  The preliminary data did not indicate a statistically significant difference between patients randomized to ASV therapy and those in the control group in the primary endpoint of time to all-cause mortality or unplanned hospitalization for worsening heart failure.
Zebra Tech (ZBRA) surged on earnings as it displayed some impressive growth (not all of it being organic).
Zebra Technologies stampeded past Wall Street's Q1 estimates early Wednesday, as the maker of asset-tracking technologies continues to benefit from industry trends and its acquisition of Motorola Solution's enterprise business.

For its fiscal Q1 ended April 4, Zebra earned $1.39 a share excluding items, up 53% year over year, on sales of $893 million, up 210%. Analysts polled by Thomson Reuters expected the Lincolnshire, Ill.-based company to earn $1.12 a share on sales of $882 million.  Under generally accepted accounting principles (GAAP), Zebra lost 50 cents a share compared with a gain of 82 cents a share in the year-earlier quarter because of costs associated with its acquisition last year of a Motorola Solutions unit.   The enterprise business Zebra acquired from Motorola Solutions in October contributed $562 million in sales, or 63% of the company's total sales in Q1. Zebra's legacy business saw sales rise 15% year over year in Q1 to $332 million. For the second quarter, Zebra expects non-GAAP earnings of $1.13 a share, up 35%, on sales of $880 million, up 205%, based on the midpoint of guidance.

Zebra is best known for making bar-code scanners and printers and RFID tracking systems.
Original article: 
STTG Market Recap May 13, 2015 – Stock Trading To Go