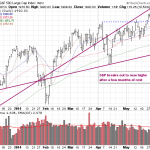 Another positive day for the bulls as the overbought condition we saw Tuesday only had 1 day of rest (yesterday) and today another moderate move.  This despite a quite awful GDP figure in the morning but most are blaming that on weather.  The S&P 500 and NASDAQ had twin gains of 0.54%.    The Commerce Department said gross domestic product declined at a 1 percent annualized rate in the first quarter. Analysts had estimated a 0.4 percent contraction.
The S&P 500 is getting near the top of this channel (upper purple line) so as was stated with the NASDAQ 2 days ago is nearing an area it needs "some" rest… the NASDAQ has a lot more headroom since it was beaten down much worse during the correction.
We said last week that we were seeing a rotation back into growth / momentum type names – specifically mentioned were groups like solar and stocks like Yelp (YELP).  With the help of Marketsmith we'll show you those charts today – some had huge moves.
First Apple (AAPL) which  continues this monster move – again this is the world's largest stock so it is amazing to watch it move like this but we noted it had sat in a high level flag during the correction and wrote "it looks like it wants to rally but just needs the market's cooperation".  Well now you see what we meant – cooperation has been sent and Apple is rip roaring.
Netflix (NFLX) also mentioned…
We noted Yelp (YELP) last week broke a long term downtrend – now we see a huge move.
We said that if the market was ready to return to growth stocks to watch the solar stocks – ETF is TAN but there are about 10-12 individual names, one example today is Trina Solar (TSL).
Outside of that Chinese internet stocks are much like the solar stocks – when the market is in a good mood traders go to these: YY (YY) a social networking stock is a great example; chart almost identical to Yelp.
And the biotechs broke a key resistance area – see Biogen (BIIB) for results of what happens in many cases after resistance is broken.
So overall there has been a big improvement over the past week in the market – the right groups are now running.  A lot of the names above are the nexus of the growth / momentum crowd.  It is a bit overheated very near term as we could not even consolidate for 2 days for rest but we are definitely in a different place then we have been stuck for 2 months.
View post:  
STTG Market Recap May 29, 2014 – Stock Trading To Go