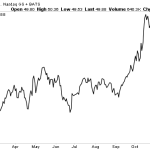 We live in the era of technology. Whether you work from home or corporate America, you rely on modern technology to allow you interact with clients, create business plans and run day-to-day operations. It seems safe to say that the future growth of any industry is dependent upon growth in technology itself.​
It's been said that many real-life scientific breakthroughs stem from the inspiration of science fiction. For instance, our modern society looks an awful lot like the Hill Valley of 2015 as depicted in "Back to the Future 2." While the ubiquity of flat-panel televisions, the return of 3-D movies, and multi-channel surfing capabilities may have all been played for laughs in that movie almost a quarter-century ago, all those technologies are part of our daily lives today. 
Touchscreens are another type of technology was once relegated to the realm of sci-fi but is now commonplace. Apple's (Nasdaq: AAPL) first iPhone, launched in 2007, popularized touchscreens for mainstream consumers. Mobile devices and tablets have been the largest market for touchscreen interfaces, but there's a growing trend to put them into laptops and desktop computers. 
The touchscreen industry is expected to top $14 billion by 2016 with a compound annual growth rate of 18%. Touch functionality in mobile devices is predicted to grow from 1 million units shipped in 2010 to 50 million by 2016. It's the perfect environment for savvy software companies — such as Synaptics (Nasdaq: SYNA). 
Synaptics is an application software developer whose interfaces are used in smartphones, tablets and other mobile electronic devices, including Google's (Nasdaq: GOOG) Nexus 5 to Amazon.com's (Nasdaq: AMZN) Kindle. Highly undervalued, SYNA is trading at just 13 times earnings, and the company recently posted a 455% increase in earnings compared with the same quarter a year ago. Synaptics carries no long-term debt and looks like it's trading in bargain territory after management lowered its forecast for the next quarter. 
While Apple has its proprietary iPhone and iPad products, Synaptics develops the interfaces for virtually everything else, including Android. The highly anticipated launch of Google's new Nexus 5, armed with the latest Kit Kat operating system, also comes equipped with Synaptics' latest ClearPad 3350 In-Cell touchscreen technology. Other new endeavors include Synaptics' acquisition of Validity Sensors, which should help Synaptics break into the fingerprint ID market.
Synaptics' closest competitor is Cypress Semiconductor (Nasdaq: CY) and its CapSense and TrueTouch touchscreen products. CY appears attractive with a 4.5% dividend yield, but that payout is likely to be cut soon, considering that Cypress has been struggling with negative earnings and poor stock performance. Cypress is also suffering from a high debt load, with a debt-to-equity ratio of 1.4. 
Synaptics is poised for considerable growth. In its most recent quarter, the company saw a 75% increase in revenue, to $222.6 million, compared with the same period last year. Mobile product sales, which account for 73% of total revenue (PC sales account for the rest) were up 152% from a year ago. Operating margins have improved in the past year as well, climbing from 13.6% to 25.1%. Management expects the current quarter to be strong as well, with revenue of between $192 million and $208 million.
Risks to Consider: Synaptics relies on innovation to stay ahead of its competitors, so a lag in new developments could weigh on future revenue. The stock has a relatively high short float of 27%, which could create downward pressure inhibiting a quick rise in price.
Action to Take –> The stock is currently trading in value territory at just under $50. Average earnings growth over the past five years has been stellar at 34%, and earnings were 84% this year alone. A conservative model for growth over the next five years places this stock at least $60 — a 20% discount.
Visit link: 
This Tech Stock Is Trading Deep In Value Territory (SYNA)