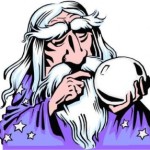 As 2013 winds down, it's only natural for people to make personal New Year's resolutions for 2014. It's also a perfect time for technology industry predictions. 
This is the third installation in our multi-part "Technology Predictions for 2014″ series in which industry providers—from Big Data to cloud to mobile—share their predictions about the hot tech trends that will take center stage in 2014. We'll be sharing all the predictions we've heard with you over the next several days.
Big Data in 2014
.
Big Data is a topic that we at siliconANGLE have been one step ahead of in 2013. From our written coverage on how Big Data adoption growth is driving new use cases for gathering, processing and communicating information to theCUBE's live coverage at events such as BigDataNYC 2013, we have been sharing with you the latest and greatest developments in Big Data. So, what's in store for Big Data in 2014?
We heard four predictions for Big Data in 2014 in the first installation of our series from Saggi Neumann, co-founder and CTO of Xplenty, a cloud-based, code-free, "Hadoop as a Service" platform. In the second installation, we heard four more predictions from Quentin Gallivan, CEO of Pentaho, a provider of open-source reporting, analysis, dashboard, data mining and workflow capabilities.
Here, we share seven more Big Data predictions, this time from Steven Hillion, Chief Product Officer at Alpine Data Labs, a code-free, in-cluster web analytics platform that analyzes Big Data and Hadoop.
In 2014 and beyond, Hillion thinks data science will evolve significantly, with the following profound changes leading the way.
Prediction No. 1: Machines will take over decision-making based on analytics.
Prediction No. 2: Women will take a far more prominent role in the world of data science, helping to solve the data scientist shortage.
Prediction No. 3: We will see increasing emphasis on collaborative and web-based solutions for data science and advanced analytics.
Prediction No. 4: Spark and other alternatives to Hadoop will rise, and we will see acquisitions of a number of Hadoop vendors.
Prediction No. 5: Retail companies will be using predictive analytics for offline marketing in ways that, until now, were used exclusively for online marketing. For instance, digital signage company Scala is working with Alpine Data Labs on ways to use advanced analytics to improve in-store advertising. It may seem that digital billboards are random, but Scala is working on placing science behind them.
Prediction No. 6: With barriers to entry slowly being lowered, students will begin to learn fundamental data science principles as part of their high school curriculum. For instance, data science principles will guide the study of chemistry as teachers introduce students to fundamental laws of distribution, probability and central limit theorem, and design experiments using hypothesis testing, clustering, and classification and scoring.
Prediction No. 7: We have already seen predictive analytics being used for recommendation engines. But, when it comes to personal finance, predictive analytics will soon be used to supply consumers with information on cause and effect. While Netflix, Pandora and others provide recommendations (movies and songs you might like), personal finance companies will soon provide consumers with cause and effect information. For example, if you invest $10,000 now, these companies will tell you the options reflecting what your retirement will look like or make predictions if you will meet or exceed your monthly budget.
Stay tuned for the fourth installation of our "Technology Predictions for 2014″ series, in which we'll hear more exciting Big Data predictions from a top industry vendor.
Click here for the first installation, in which we heard Big Data predictions from Xplenty.
Click here  for the second installation, in which we heard Big Data predictions from Pentaho.
About Suzanne Kattau
Suzanne Kattau is a writer for SiliconAngle covering the enterprise cloud space. If you have a story idea or news tip, please send it to @SuzanneKattau on Twitter or via email at [email protected]

View all posts by Suzanne Kattau
See the article here: 
2014 Technology Predictions Series: Alpine Data Labs on Big Data …