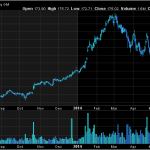 The first quarter of the year brought with it some major selling in the momentum names, specifically in biotech stocks.
Since then, the overall stock market has recovered, and so have most biotech stocks with it. Unfortunately, while the market has hit new highs, most biotechs have not.
Some biotech stocks, however, have performed better than others, and some have actually outperformed the overall market in recent weeks.
It starts with Illumina (NASDAQ: ILMN). Illumina develops, manufactures and markets life science tools and integrated systems for the analysis of genetic variation and function in the biotech industry.
Illumina's stock stalled repeatedly at $180 back in February and March. The stock has now approached that old high and seems poised to break out.
Another biotech stock that has performed well, and actually better than the overall market, is Pacira Pharmaceuticals (NASDAQ: PCRX).
The company develops, commercializes and manufactures pharmaceutical products primarily for use in hospitals and ambulatory surgery centers worldwide.
Not only has Pacira reached its $83, February peak, the stock has actually exceeded it and continues to hit new 52-week highs.
Lastly, InterMune Pharmaceuticals' (NASDAQ: ITMN) stock performance has been nothing short of impressive.
InterMune popped to $38 back in February and March before eventually falling to $24.
The stock has now went on to hit high after high.
If investors and traders think the market's new highs have legs and want to try to ride the biotech train again, take a good look at these leaders for opportunities!
Read more: 
3 Hot Biotech Stocks Hitting Highs | Benzinga