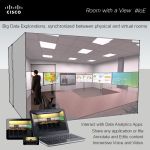 What's the problem with Big Data? You guessed right — it's BIG.
Big Data empowers organizations to discern patterns that were once invisible, leading to breakthrough ideas and transformed business performance. But there is simply so much of it, and from such myriad sources — customers, competitors, mobile, social, web, transactional, operational, internal, external, structured, and unstructured — that, for many organizations, Big Data is overwhelming. The torrents of data will only increase as the Internet of Everything spreads its ever-expanding wave of connectivity, from 10 billion connected things today to 50 billion in 2020.
So, how can organizations learn to use all of that data?
The key lies not in simply having access to enormous data streams. Information must be filtered for crucial, actionable insights, and presented to the right people in a visualized, comprehensible form. Only then will Big Data transform business strategies and decisions. In effect, Big Data must be made small.
However, as McKinsey & Co. reported, many organizations don't have enough data scientists, much less ones who understand the business well enough to draw conclusions. The trick is to get the scientists together with the experts who understand the business levers driving the organization. Put them in a room with the right tools, and watch the synergy fly.
But what sort of a room?
If you recall the command centers, or "war rooms," of the past, with their pinned-up maps, paper scraps, and Post-it notes, you're halfway there. Such spaces have spurred strategic decision making in countless military, political, and corporate campaigns. But as with the revival of bell-bottom jeans, the command center is not coming back in quite the same way.
Today's command center is being transformed by the Internet — call it the Big Data command center. Whether participants enter physically or virtually from any device or time zone, the Big Data command center appears more or less the same. A team member sees content posted by others "in the room" along with real-time video of colleagues. Everyone can brainstorm or share content and Post-it notes from any location.
In this context, the correlation of insights from multiple sources provides a holistic view of a problem, leading to end-to-end solutions. A retailer, for example, could combine data across finance, merchandising, supply, marketing, and operations while highlighting sales impacts related to geography, demographics, or even the time of day or week.
Once business leaders ask a question, data scientists can visualize multiple data sources in a graphical presentation. In the process, a "story" scenario unfolds. This design-led approach helps in interpreting multiple data streams. The key is to consider the audience and design the visuals that will be most relevant for it. With a focus on simplicity, the data can be edited to its bare essentials. And a clear storyline guides executives to where the important data stands out and the key insights are best understood.
The Big Data command center leverages many of the key enablers of IoE, including analytics, cloud, mobility, advanced collaboration tools, and sensor technology. Combining the "flex space" concept of a virtual room, along with visualized storytelling, the Big Data command center:
Brings together data scientists and business experts
Enables teams to find patterns, spot inconsistencies, and uncover questions that have yet to be asked
Drives development of new analytics dashboards while uncovering knowledge gaps (for example, the impact of price changes on consumer behavior)
Presents data via pictorial or graphical visualizations such as those being explored by The New York Times. This is a highly effective method for analyzing information that enables business users without deep technical expertise to glean crucial insights.
Shows multiple sources simultaneously in a storytelling context
The results? Enhanced interactivity, innovative insights and thinking, new analytics tools, and reduced cycle time.
Businesses and industries of every size and variety have opportunities to improve decision making and performance through Big Data analytics. The digital command center will go a long way toward enabling them to realize these enhancements. By coordinating talent and presenting data insights in an easy-to-digest context, more and more workers, at all levels, will be able to apply data to their most vexing business challenges.
In the end, digital command centers could be crucial tools for slicing through the digital deluge, isolating key insights, and getting them to the people who need them most, in real time.
Big Data doesn't have to be overwhelming. And when it gets downright small in a Big Data command center, transformation and competitive advantage will surely follow.
Tags: Big Data, Cisco, Cisco Consulting Services, data scientists, innovation, Internet of Everything, internet of things, IoE, IoE Value Index, IoT, retail, value at stake
From: 
A Room with a View (of Crucial Big Data Insights) – Cisco Blog