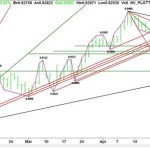 Get Forex buy/sell signals directly to your email and by SMS.
The AUD/USD posted an inside day on Friday, indicating trader indecision. This also typically indicates impending volatility. The Forex pair begins the session 11 days down from the April 10 top which puts it in the window of time for a closing price reversal bottom, or at least the start of a short-term correction.
The nearest support angle is .9264, followed by .9253. The market opens up under this last support angle with .9226 and .9220 potential downside targets. Conditions could get even worse under .9205. Not only will the trend turn to down on the daily chart, but bearish shorts could even push the market into another 50% level at .9191.
Any attempt to rally today is likely to be labored because of the series of uptrending angles at .9290, .9303 and .9319. Once .9319 is cleared, look for a possible acceleration into .9340.
The tone of the market today is likely to be determined by how investors react to the angle at .9253. Holding above this angle will mean buying is coming in. The strength of the rally will be determined by the volume. Strong volume is going to be needed to overcome a series of price levels before the AUD/USD will have room to run.
Don't be surprised by the start of a near-term correction and be careful selling weakness because of the possibility of a closing price reversal bottom. Don't get caught in a Bear Trap!
View the original here – 
AUD/USD Technical Analysis – April 28, 2014 Forecast » Fx Empire …
See which stocks are being affected by Social Media