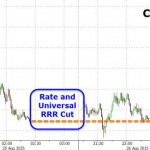 Update: Chinese stocks are seeing no lift whatsoever from the rate cuts…
CSI-300 is fading fast…
And
*SHANGHAI COMPOSITE INDEX SLIDES 3.3%
*SUGA: HOPE CHINA RATE CUT WILL CONTRIBUTE TO CHINA GROWTH
Confusion reigns at Bloomberg also… (look at URL – original title, and compared to title posted at 8pmET)…
And now…
h/t Beermunk
As we detailed earlier:
The Asia morning begins mixed in stock markets, The PBOC explains itself "this is not a shift in monetary policy," – except it is the first such set of measures since 2008, further deleveraging as China margin debt drops CNY1 Trillion from June peak to lowest since March, Regulators begin probing securities firms (and their malicious short sellers), Index futures trading fees will be raised and trading positions restricted. Stocks are limping only modestly higher (after the rate cuts) as Yuan is fixed at 6.4043 – the lowest since August 2011.
Yuan fix weaker for 2nd day to new 4 year lows…
*CHINA SETS YUAN REFERENCE RATE AT 6.4043 AGAINST U.S. DOLLAR
*CHINA LOWERS YUAN FIXING TO WEAKEST SINCE AUG. 2011
Before China opens, it's worth noting that all the post-China close, pre-China open exuberance from the PBOC multiple rate cut has been eviscerated…
So The PBOC explains why it did something it hasn't done since 2008…
*PBOC'S MA SAYS RATE CUTS NOT A SHIFT OF MONETARY POLICY: XINHUA
*PBOC'S MA SAYS RATE CUTS TO KEEP MODERATE CREDIT GROWTH: XINHUA
*PBOC'S MA SAYS CHINA MONETARY POLICY REMAINS PRUDENT: XINHUA
The rate cut did have some impact…
*CHINA ONE-YEAR IRS FALLS 7 BPS TO 2.47%
*CHINA ONE-YEAR IRS HEADS FOR BIGGEST DROP SINCE JUNE
*CHINA SEVEN-DAY REPO RATE DROPS 25 BPS TO 2.30%
And stocks are only marginally higher..
*CHINA'S CSI 300 STOCK-INDEX FUTURES RISE 0.7% TO 2,852
*CHINA SHANGHAI COMPOSITE SET TO OPEN UP 0.5% TO 2,980.79
And bearin mind that…
*ABOUT 17% OF MAINLAND STOCKS STILL HALTED FROM TRADING
Some more good news as deleveraging continues… lowest since March 2015
*CHINA MARGIN TRADING DEBT DROPS 1 TRILLION YUAN FROM JUNE PEAK
*SHANGHAI MARGIN DEBT BALANCE HALVES FROM JUNE RECORD HIGH – Balance is lowest since Jan. 12
But more restrictions are put in place:
CHINA TO RAISE TRANSACTION FEES ON STOCK INDEX FUTURES TRADING – EXCHANGE STATEMENT
CHINA TO RESTRICT TRADING POSITIONS IN STOCK INDEX FUTURES – EXCHANGE STATEMENT
As things are not going well in the Communist intervention – so the probes begin (as ForexLive reports)
The South China Morning Post report that four brokers say the CSRC is probing their business

Haitong Securities, GF Securities, Huatai Securities and Founder Securities

All made stock exchange statements that they had received notices from the China Securities Regulatory Commission

For suspected failure to review and verify clients' identities

Along similar lines, Xinhua reported:

8 people from Citic Securities were being investigated for possible involvement in illegal securities trade
A staff member from Caijing magazine was also being probed for spreading rumours
A current and a former staff member at the CSRC were also being investigated for suspected insider trading
* * *
This morning, as China wakes up…
…And realizes that PBOC policy changes have not been working. As BofAML explained,
The combined rate and RRR cuts announced today, clearly targeted to boost A-share market sentiment in our view, may provide some temporary sentiment relief. However, we doubt that this represents the bottom of the market…

It appears to us that the government has significantly reduced its direct purchase in the market in recent days and is now trying to replace the direct intervention with the softer, more market oriented, and indirect support. We doubt this will work beyond a few days. As a result, we recommend selling into any rebound. A few things worth highlighting:

Psychologically, the cuts may have some impact in the short term because they are the first combined interest rate and universal RRR cuts since Dec 2008, after a sharp market fall. Nevertheless, we doubt the impact will be significant as they are already the eighth cut to either rate or RRR since late 2014.
The key overhangs of the A-share market are stretched valuation and high leverage. It's our view that the only way that the government can hold up the market is by being the buyer of last resort, i.e., the direct support that the government appears to be withdrawing
From real economy's perspective, we doubt monetary loosening is the solution to China main problem – overcapacity/a lack of consumption, and leverage. All it does may be to encourage property speculation, likely using more leverage
If the government fails to defend the A-share market ultimately, the key risk we should watch out for is financial system instability.
It's not just BofA that is not buying it… As Bloomberg reports, China's latest cuts in RRR and interest rates will limited boost to stks, according to most analysts and economists. Move is mainly aimed at supporting economy, not starting another mkt rescue.
DEUTSCHE BANK
Move largely in-line with expectations, reaffirmed leadership's policy priority is growth support: strategist Yuliang Chang
Stk mkt appears oversold amid "jittery" sentiment
Recommends investors buy H-shrs to position for macro improvement

EVERBRIGHT SEC.
Cuts should not be interpreted as beginning of fresh round of strong mkt rescue; move may help stabilize capital mkts though boost to stk mkt will be limited: chief economist Xu Gao
Cuts won't be able to reverse mkt trend; focus seen returning to macro fundamentals amid valuation bubble burst, deleveraging, pressure from exit of earlier rescue policies
Need for govt to intervene in stk performance greatly reduced after decline in leveraged positions; stk mkt declines posing less threat to financial stability
Mkt rescue policies exited steadily, though at slower pace

GUOTAI JUNAN SEC.
Cuts to improve overly pessimistic mkt sentiment, reduce possibility of further accelerated decline in mkt: analysts led by Qiao Yongyuan
Shanghai Composite may trade in range 2,800-3,200 pts
Sees relative gains in:
Stks with high div.: transport, home appliances, auto, financials, property
Low valuation with earnings support: food & beverage, power
Beneficiaries of fiscal policies: rail transit

JPMORGAN
Cuts to bring temporary support for stk mkt; earlier correction in stks partly due to disappointment over later- than-expected RRR cut: chief China economist Zhu Haibin
Absence of govt support during recent mkt declines indicate changes in intervention strategy, which is focused more on mkt mechanism restoration than maintaining index level

MACQUARIE
Central bank reacted to shore up confidence in stk mkt to stop panic: analysts led by Larry Hu

UBS
Cuts signal authorities' determination of arresting passive tightening and safeguarding financial stability, should help boost sentiment in financial mkts: economists led by Wang Tao

BNP PARIBAS
Cuts look like response to panic selling in A-shr mkt, main aim is to support economy: analyst Judy Zhang
Banks to be key beneficiaries of cuts as earnings more sensitive to asset quality improvement than NIM contraction
H-shr-listed China banks present attractive risk/reward for long-term investors

CICC
Monetary easing good for valuation recovery in property stks: analysts led by Yu Zhang
Strong momentum in property sales to continue into Sept., Oct. after reduction in mortgage repayment
Buy CR Land, COLI on dips; sees >30% upside in H-shr property players
* * *
Putting China's demise into context – off the March 2009 lows…
And here's a gentle reminder of who to listen to from now (or not!)…
Charts: Bloomberg
Average:
4.866665
Your rating: None Average: 4.9 (15 votes)
Originally posted here: 
China Devalues Yuan To Fresh 4-Year Lows, Arrests Top Securities …