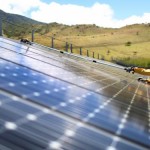 Related
FSLRBy 2016, All Solar Investors Will Know The Name '8point3'New ETF From BlackRock And EdelmanEnergy Yieldcos On The Rise(Investor's Business Daily)
Related
RGSEEarnings Scheduled For March 31, 2015SolarCity, Sunedison Earnings Drag Down Solar Sector
Short sellers shied away again from many of the leading U.S. solar-related stocks between the March 13 and March 31 settlement dates. The most significant downswings in short interest in the period happened to First Solar, Inc. (NYSE: FSLR), Real Goods Solar, Inc. (NASDAQ: RGSE) and SunPower Corporation (NASDAQ: SPWR).
First Solar
Short interest in this Tempe, Arizona-based company shrank about 10 percent during the period to more than 7.98 million shares, or about 11 percent of the float. That was the greatest number of shares short in at least a year. At the average daily volume, it would take less than four days to cover all short positions.
Shares have plateaued since the rally following news of First Solar's yieldco with SunPower. First Solar has a market capitalization of about $6.2 billion. Its operating margin is better than the industry average and its price-to-earnings (P/E) ratio is less than the industry average.
Related Link: By 2016, All Solar Investors Will Know The Name '8point3'
The consensus recommendation of the analysts polled by Thomson/First Call is to hold shares, and that has been the case for at least three months. Yet, the analysts' mean price target, or where they expect the share price to go, is about 5 percent higher than the current share price.
Real Goods Solar
Short interest in this company, now known as RGS Energy, fell more than 23 percent to around 3.14 million shares during the period. That was the smallest level of short interest in the past year, and it represents more than 6 percent of the float. The days to cover is less than one.
Shares of this Colorado-based solar energy company have declined in the past year and now trade for less than a dollar. It has a market cap of only about $18 million. Its operating margin and its return on equity both remain in the red, but double-digit percentage revenue growth is forecast for the current year.
Only one polled analyst remains — that analyst recommends holding shares. For what it is worth, the one remaining price target is more than 71 percent higher than the stock's current share price, though it is well south of the 52-week high from almost a year ago.
SunPower
The number of shares sold short in this integrated solar products and services company shrank about 19 percent in late March to more than 5.89 million. That was the lowest level of short interest in the past year and totaled more than 11 percent of the float. The days to cover rose to more than four.
Headquartered in San Jose, California, this company has a market cap of more than $4 billion. It announced in March that it would form a yieldco with First Solar.
The consensus recommendation of the 13 analysts surveyed is to buy shares, with three of them rating the stock at Strong Buy. A move to their mean price target would represent a 20 percent gain on the current share price.
Note though that the consensus target is less than the 52-week high.
The stock's performance has been nearly in line with that of competitor/partner First Solar over the past six months, and they both outperformed the S&P 500.
And Others
Short sellers also retreated more modestly from SolarCity Corp (NASDAQ: SCTY), TerraForm Power Inc (NASDAQ: TERP) and Vivint Solar Inc (NYSE: VSLR) in the latter two weeks of the month, and short interest in Sunedison Inc (NYSE: SUNE) was essentially unchanged from the previous settlement date.
However, Advanced Energy Industries, Inc. (NASDAQ: AEIS) saw a marginal bump in short interest.
Among foreign-based solar companies, the number of U.S.-listed shares (or ADSs) sold short in Canadian Solar Inc. (NASDAQ: CSIQ), China Sunergy Co Ltd (NASDAQ: CSUN), JA Solar Holdings Co., Ltd. (NASDAQ: JASO), JinkoSolar Holding Co., Ltd. (NYSE: JKS), Trina Solar Limited (NYSE: TSL) and Yingli Green Energy Hold. Co. Ltd. (NYSE: YGE) also shrank during the period.
However, Hanwha Q Cells Co Ltd (NASDAQ: HQCL) and ReneSola Ltd. (NYSE: SOL) saw gains in their short interest.
At the time of this writing, the author had no position in the mentioned equities.
Posted-In: First Solar Real Goods Solar SunPowerShort Ideas Commodities Markets Trading Ideas Best of Benzinga
Read this article:
Have Short Sellers Given Up On Solar Stocks? – First Solar, Inc …