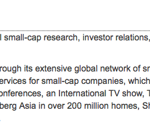 Summary
Doing due diligence on a small portion of the mosaic theory related to Inovio and other biotechs led me to doing a small initial study on RedChip.
While RedChip has Inovio listed prominently in multiple areas on its website and has recently Tweeted about it, Inovio is not a client and has never paid RedChip.
Biotech and healthcare stocks listed as RedChip stocks on the company's website have performed horribly down almost 40% in the past year while the biotech index is up almost 40%.
While shorting the broad group of RedChip biotech and healthcare stocks would seem to lead to abnormal profits, I recommend due diligence on each individual company before trading a name.
After filling up with some turkey, I began to do some due diligence on Inovio Pharmaceuticals (NASDAQ:INO). Inovio is geared at developing synthetic vaccines for the treatment of cancers and infectious diseases. To say the least, INO has been a battleground. There have been an extreme amount of bullish pieces out on the stock just this year considering this is sub $1 billion company with well over 10 bullish pieces on the company on Seeking Alpha this year by my count including examples linked here and here. While the sheer number of bullish articles is a bit surprising (especially considering the stock is down 14.74% year to date), there have been some articles in regards to INO being a possible short opportunity including here and here. While I definitely still need to do much more due diligence before forming an educated opinion on INO, I certainly am a bit skeptical in regards to if a $600 million market cap is warranted.
All the discussion in regards to what promotional activity that Inovio has/has not been involved with got me thinking about the relationships between frequency of press releases, frequency of bullish Seeking Alpha articles, institutional ownership, and stock performance. I am still looking to identify the best data points for this project and will need to collect all the necessary raw data. One project I was able to dig a bit into was looking at the stock performance of the stocks highlighted by RedChip Nation, which lists Inovio as one of the company's stocks in the "view all stocks" tab as well as the "biotechnology" tab. RedChip is an international small-cap research, investor relations, and media company that is headquartered in Orlando, Florida. See their full overview depicted below:
One interesting nugget of info I found listed in this overview is that RedChip highlights its ability to deal with "crisis management." While this certainly could have many meanings, I presume it is in regards to using its various products and services such as The RedChip Money Report (airing on Fox Business, Bloomberg Europe, and Bloomberg Asia in over 200 million homes) and its institutional marketing abilities to help highlight a company's positive attributes in a period of extremely negative news in a effort to put a floor on a declining share price.
I initially ran into RedChip when doing diligence on Akers Biosciences (NASDAQ:AKER), which had popped on my value biotech screen. In this piece, I highlighted the many YouTube videos put out by RedChip and Dave Gentry highlighting AKER as an amazing and undiscovered investment opportunity. I also broke down the enormous disclosure provided by RedChip that highlighted that AKER pays for RedChip "awareness services" and that RedChip does not guarantee accuracy the information on the company that it publishes per the disclosure. I concluded that I personally find it a clear conflict of interest to be a company's "awareness services" firm as well as performing equity research on the stock. Given that small companies are obviously low budget and constantly in need of cash, I question if this is a legitimate and honest use of shareholder funds as I do not believe it is the way a well-run business looks to further its products. I believe that the quality of a product and the science behind a product should be the major factors that help a company gain traction as opposed to paying for media to provide substantial coverage. I also pointed people towards the Instablog post by RedChip on Seeking Alpha where the company discusses the benefits of its services amid negative commentary from CNBC. In regards to AKER, while I determined it was cheap, I chose to initiate the stock with a hold rating given the some of the questionable relationships I identified between AKER and various players in the finance industry, along with a bit of aggressive accounting that seemed a bit unnecessary. Since I initiated the stock at a hold on November 3rd at $3.40, the stock has declined almost 12% to $3.
From just taking a look at the RedChip website, I assumed that INO was a client of RedChip. INO is listed in multiple areas prominently on the RedChip website, and I was not able to identify any of RedChip's disclosures that explicitly defines who is and who isn't a client. While I initially through that INO was hiring RedChip (an assumption I believe others might gather from looking at the RedChip website), I learned from my discussion with investor relations at Inovio that this is not the case. I was told that INO does not have a stock awareness program with RedChip and, after a phone call, learned that INO has actually never paid RedChip anything. RedChip approached INO with interest in the company and potentially creating content on it, which triggered the Youtube interviews that you can find here and here. While the videos through Youtube and other investor websites that I located took place in 2012 and 2013, some of the newer videos seem to be on private mode in Youtube, and we are not able to currently watch them as you will see in the second linked example. Regardless, RedChip still seems to have a lot of interest in INO. On RedChip's website, you will find a page on Inovio with a presentation on INO that appears to be from the beginning of 2014 based on a market cap from January 2nd, 2014 listed on it as well as links to latest news on INO. Why is RedChip putting in all this effort on INO even though it is not currently a client and has never paid anything to RedChip? I am not sure. The company has utilized its Twitter account to share its video in regards to INO as recently as this past October. Does RedChip have a desire to associate with a company that has certainly seen substantial positive performance in the past few years? Maybe. I have reached out to RedChip, but have yet to receive answers to any of my questions.
While it does not look like INO has ever had any paid business relationship with RedChip, some companies certainly do. Most of companies RedChip covers in the biotech and healthcare spaces are tiny companies with less than a $50 million market cap that trade on the OTC. INO is an exception with its $600 million, though this was certainly a smaller company when RedChip initially began to cover INO. Given what RedChip touts about helping people notice smaller companies, logic would suggest that coverage from RedChip would lead to better stock performance. I looked to answer this question by studying the companies RedChip currently lists on its website. Do RedChip services seem to give company shares a boost in performance? RedChip touts its best-performing stocks here. I decided to look into this question in more detail.
My Initial Research
While RedChip highlights its exceptional performance by noting its best-performing names, I decided to look at the performance of all of its current healthcare and biotechnology stocks as those are the sectors I am interested in researching. To gather this info, I was able to go RedChip's website where it lists its current healthcare stocks here and its biotechnology stocks here. I gathered the performance numbers for each stock through usage of Google Finance and Yahoo Finance. This was a more difficult task than one might expect as many of these companies have undergone a reverse split or switched markets, complicating the data collection process. The performance figures I collected are shown below:
Stock
Ticker
Performance 6 Month
Performance 1 Year
Boston Therapeutics
-75.38
-88.97
Zivo Bioscience
-54.86
-70.18
Biocept
(NASDAQ:BIOC)
-26.35
-65.21
Oragenics
(NYSEMKT:OGEN)
-43.68
-61.09
Vaccinogen
-49.35
-60.80
Cancer Genetics
CGIX
-50.35
-58.80
Opexa Therapeutics
(NASDAQ:OPXA)
-36.17
-56.73
Sorrento Therapeutics
(NASDAQ:SRNE)
-25.49
-55.56
CNS Response
-48.89
-54.99
Galectin Therapeutics
(NASDAQ:GALT)
-65.45
-50.75
DS Healthcare Group
(NASDAQ:DSKX)
-45.00
-50.50
Combimatrix
(NASDAQ:CBMX)
-35.32
-46.59
Cardica
(NASDAQ:CRDC)
-32.62
-38.00
RedHill Biopharma
(NASDAQ:RDHL)
-47.41
-18.41
Opko Health
(NYSE:OPK)
-6.17
-16.22
Actinium Pharmaceuticals
(OTC:ATNM)
-49.83
-12.91
Northwest Biotherapeutics
(NASDAQ:NWBO)
-17.03
12.27
Inovio Pharmaceuticals
INO
17.74
15.00
OxySure Systems
14.29
20.00
Akers Biosciences
AKER
-22.08
N/A
AV Therapeutics
-76.72
N/A
For the 6-month time frame, only 2 out of 21 firms (less than 10%) have seen positive performance, with INO being one of them. For the 1-year period, only 3 out of the 19 companies have seeing positive stock performance, with INO again bucking the trend. The first question off of this information would naturally be: "how did the performance compare to the appropriate comparison index?"
Stock
Ticker
Performance 6 Month
Performance 1 Year
RedChip Healthcare/Biotech Stocks
REDCHIP
-36.96
-39.92
SPDR S&P Biotech ETF
XBI
36.28
39.52
iShares Russell Microcap Index
IWC
3.14
2.42
For comparison, I have included both the SPDR S&P Biotech ETF (NYSEARCA:XBI), which is the biotech ETF with most small cap exposure. I have also included the iShares Russell Microcap Index (NYSEARCA:IWC), which displays the performance of stocks of the market's smallest companies. As is quite evident from the above chart, RedChip healthcare/biotech stocks have performed significantly worse than the comparison indices. Shareholders of RedChip companies have seen a significant decrease in the value of their investments while the value of small biotech stocks have been increasing substantially over the past year.
RedChip also puts out research reports and target prices for some of its clients. From reading a few of the research reports, I believe that, like most equity research pieces, price targets are one year share price targets as the company has based the reports I have listed below off of 2015 estimates. While the sample size is indeed small as RedChip only has price targets for five of its healthcare and biotechnology clients, I do think the results are noteworthy. While the implied upside based on the price at the time of research report publication for RedChip's reports are all above 200%, performance since the research reports has been substantially negative, even as the market and especially the biotech sector continues to rally to all-time highs. Cancer Genetics (NASDAQ:CGIX) is our main example where it has been almost a year since the oldest research report I was able to identify from RedChip. Since the report on 12/17/13, the stock is down over 53% while implied upside to target was over 260% when the research report was released. RedChip still displays this $44.50 price target as current on its website, suggesting that CGIX currently has an astounding upside figure of almost 700%. All of these examples below pay RedChip cash for "investor awareness services and programs" with OPXA even paying RedChip partially in stock and OXYS paying RedChip partially with a substantial number of warrants.
Further Research Targets
This is just an initial look into something one could dig into in much more detail. This study could be applied to all sectors as opposed to just healthcare and biotechnology. One could also look at more time periods than just a six month or one year time frame. Ideally, it would be interesting to look at a list of the stocks RedChip displayed on its website one year ago and then review performance, but this is not something I was able to find. It would be also interesting to compare the performance of companies that have a paid business relationship with RedChip compared to those that the company just chooses to highlight that don't actually have a paid relationship with RedChip such as INO. One could also do due diligence on other companies that do some of the same things as RedChip and see if performance numbers are similar. In regards to INO, this is merely just a tiny part of the mosaic theory that I decided to research, and I have much more due diligence on the company and the science to complete before developing an educated opinion.
Conclusion
Stocks that RedChip highlights certainly seem to perform significantly worse than comparison indices, even in the very strong market we have been experiencing. I personally think an investment strategy shorting a broad group of stocks (an ETF of sorts) that RedChip touts would have a lot of potential for abnormal returns. Am I suggesting that a trader should go out and short INO or any other stock related to RedChip just because it is a stock that RedChip supports? No, I certainly am not. I personally need to do a substantial amount of research on INO and its platform to determine if it's an attractive investment. I do though think that broadly placing a short position against the group of healthcare and biotech stocks RedChip supports has a good chance to provide an abnormal return, and I encourage others to continue to perform more due diligence on this area to see if they find the same result.
Editor's Note: This article covers one or more stocks trading at less than $1 per share and/or with less than a $100 million market cap. Please be aware of the risks associated with these stocks.
Source:
Horrendous Stock Performance Of RedChip Nation Healthcare And Biotech Stocks
Disclosure: The author has no positions in any stocks mentioned, and no plans to initiate any positions within the next 72 hours. The author wrote this article themselves, and it expresses their own opinions. The author is not receiving compensation for it (other than from Seeking Alpha). The author has no business relationship with any company whose stock is mentioned in this article. (More…)
See original:  
Horrendous Stock Performance Of RedChip Nation Healthcare And …