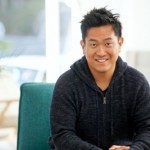 SAN FRANCISCO–If you can't beat them, try beating them another way.
In 2004, Greg Tseng and Johann Schleier-Smith launched a startup called Tagged. They hoped to outdo another nascent project, known at the time as "thefacebook," in the then-wide open world of social networks.
We know how that turned out. Facebook became the world's largest social network, with 1.39 billion monthly active users and a market capitalization of $214 billion. Tagged … "didn't win," Tseng admitted to me, in a rather large understatement.
But Tagged, now known as if(we), didn't fade away, either. The company changed focus, shifting from a service for people who know each other to one meant to help people discover all-new friends. Actually, it became a home for people trolling for love, mainly middle-aged folks in the American South and Midwest. Still, Tagged turned profitable in 2008 on the strength of advertising alone, and today it has just under 10 million monthly active users and brings in $51 million in annual revenue.
Now, more than 10 years later, Tseng is again aiming to win, not with a traditional social network but with an app, the company believes, that will fill a gaping hole in the messaging market and become the next billion-user mega-success.
But more on that later.
'Stock market for people'
The real financial engine driving if(we) these days is an odd "stock market for people," Tseng explained to VentureBeat. A social game with a healthy virtual economy, it's known as Pets. Members of the social network can digitally buy, trade, and sell each other — the pets — using a virtual currency, and the most popular people's value, and price, can go through the roof.
This means real money for if(we). Players spend a lot of actual dollars building up their Pets cash, allowing them to buy and sell more users — or more popular users. According to Tseng, as many as seven if(we) members spent more than $100,000 last year playing the game, with the top player plunking down more than $300,000.
It sounds vaguely creepy, but it's all in digital fun, so what's the harm? And for if(we), Pets has become the cash machine that will fund what it hopes will eventually be its Instagram, its WhatsApp. Its billion-user app.
Social games are big business
Plenty of social games are out there, and a few companies have made incredible fortunes building them. Serious game makers often dismiss the paper-thin depth of things like Zynga's Farmville — see Ian Bogost's Cow Clicker — but it's hard to dismiss the money they make. Supercell's Clash of Clans, for example, is said to generate more than $1.6 million per day. Just on its iPhone version.
Pets isn't in that league. But Tagged began monetizing the social stock market in 2009, and it quickly became the company's main financial driver. The company has never revealed the game's financials before, but Tseng told me that in 2014, Pets generated $36 million of if(we)'s $51 million in revenue. The game has 350,000 daily players who, on average, generate 20 cents of revenue. By comparison, he said, most social games generate between 1 cents and 5 cents per daily player.
That's true, said Joost van Dreunen, the CEO of SuperData Research. In the United States, the average daily spend for a social gamer was 3 cents in December, van Dreunen said. The big dogs in the business do a little better — King, maker of hits like Candy Crush Saga, brings in between 4 cents and 6 cents per daily player, said Cowen Group media analyst Doug Creutz, while Zynga gets between 5 cents and 7 cents. Glu, developer of Kim Kardashian: Hollywood and many other hits, generates 7 cents to 10 cents.
At 20 cents per daily player, you can see why if(we) is excited about the player engagement of Pets. The game may make just a small fraction of the $1.9 billion in total revenues that van Dreunen said social network-based games generated in 2014, but it's highly profitable, and to date, Tseng said, it has made $135 million, giving if(we) a lot of room to breathe.
It's also hoping to leverage Pets' success by expanding the game into other companies' networks. Tseng said if(we) is looking for partners, potentially developers of messaging apps, that would like to integrate a thriving social game and share in some of its steady income. If that works, Pets would be an even bigger contributor to if(we)'s bottom line. That's why the company is talking for the first time about the game's financials.
One shot at the next billion-user app
Despite its current success, and even if they can find new partners, Tseng and his fellow executives aren't fooling themselves into thinking if(we)'s legacy social network, or even Pets, are ever going to have gigantic user numbers. Yet they firmly believe the mobile app ecosystem has gaping holes. Before Facebook, YouTube, or WhatsApp, few thought a billion-user app was possible, let alone many of them. Yet today several exist. And if(we) firmly believes more are coming. Tseng and his team want to build the next one.
That's where the Pets profits come into play.
Hidden away at if(we)'s San Francisco headquarters is a team that's hard at work developing the company's next product, a mobile app it plans to launch next month. Right now, about 10 percent of the company is working on the app, but that could grow to 40 percent, or even 50 percent, by mid-2015.
So what is the app? Tseng won't say exactly, but he was willing to share a few details — just enough to get you thinking.
Here's the thing: Existing asynchronous messaging apps — those which allow us to send our thoughts at our own speed, rather than in real time as with a phone call — don't do a good enough job of conveying what people really mean, Tseng argued. "Most communication is non-verbal," he said. "We communicate by words, by tone of voice, speed, volume, by whether we're stuttering, or not. And also by body language. There's more communication not in the words than in the words."
Although people have found ways, via emojis, emoticons, and stickers, to add meaning to text-based messaging, much of what we're trying to communicate is lost in the process, Tseng said. And that's where if(we) thinks it can make a difference: Its new mobile app aims to solve that problem by making communications more "high bandwidth," Tseng said, "without losing the convenience" of asynchronous messaging.
Face-to-face communication is high-bandwidth, but low convenience, if(we) believes, while text messaging is the exact opposite: high convenience, but low bandwidth. "It's possible to create something that's high bandwidth and high convenience," Tseng said.
Tseng was already a millionaire entrepreneur before founding Tagged, which itself became a consistently profitable company. But there's a difference between profitable and being able to build a tool a billion people will use — and the resulting fortune. So it's only fair to listen to his pitch with a lot of healthy skepticism.
It's not even clear that the market agrees there's a problem with existing messaging tools. After all, WhatsApp grew quickly to 700 million users, and it got Facebook to pay $19 billion to buy it. Maybe there's no screaming need for a new tool.
But Tseng believed so much in his vision that he renamed Tagged last fall on its 10th anniversary. The new name, if(we), hints at its larger ambitions — at what a company can achieve if it dreams big and makes huge bets.
Is this Tseng's attempt to make up for losing out to Facebook way back in the day? It's hard to say, especially without seeing the new app. What is clear is that if(we) has the resources to take its shot. And it's not afraid to fail. The company won't try to monetize its app from the outset, Tseng said, but it knows how it will, once there's a critical mass of users.
Even if this first app doesn't crack that billion-user mark, or come anywhere close to it, Tseng's got ideas for the next try. And the one after that. Profits from Pets will let if(we) keep trying. "I want to create the next Instagram or Snapchat," Tseng said. "If we're successful, we'll launch a bunch of things and kill all but one of them. So failure is big in our plan."
Tagged is the social network for meeting new people. While other offerings focus almost exclusively on existing relationships, Tagged has established the category of social discovery. Tagged is the largest social discovery network in t… read more »
Greg Yuchang Tseng is an American Internet entrepreneur who was born in Taipei, Taiwan, and raised in Washington, Virginia. He is co-founder and current CEO of social networking website Tagged and was CEO of JumpStart Technologies, LLC… read more »
Powered by VBProfiles
---
VentureBeat is studying
.
, and we'll share the data with you.
Link:  
How a 'stock market for people' is funding a shot at the next billion …