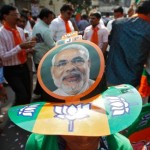 Amit Dave/ReutersSupporters of Bharatiya Janata Party celebrating outside the party office in Ahmedabad, Gujarat, on Sunday.
The Indian stock markets hit record highs on Monday after the opposition Bharatiya Janata Party, perceived as a more business-friendly party by investors, performed well in four state elections.
The Sensex index surged 487 points to 21,483.74 points, beating its previous record of 21,321.53 on Nov. 3, in early Monday trading. Meanwhile, the 50-share Nifty benchmark rose past the 6,400 level to surpass its previous record high of 6,357, hit in January 2008.
Banking stocks rose the most on the Nifty, though all 50 companies in the index performed well. The Indian rupee, which has depreciated significantly in the past few months, opened at a four-month high of 60.84 to the dollar, against Friday's close of 61.41.
India's primary opposition party, the Hindu nationalist Bharatiya Janata Party, or B.J.P., emerged as the clear winner in Madhya Pradesh and Rajasthan, had a majority in Chhattisgarh and was the single largest party in Delhi, according to results announced on Sunday evening. The B.J.P. and its prime ministerial candidate, Narendra Modi, the chief minister of Gujarat, are seen widely as more likely to back policies that favor businesses and investors than the Congress Party, which leads the governing coalition in New Delhi.
"The business community has taken a very negative view about the performance of the current government," said Sujan Hajra, chief economist and executive director of institutional equity at AnandRathi Financial Services in Mumbai. "It is perceived that the B.J.P.'s policies towards the market and business will be far more constructive."
The verdict in the state elections, which is being seen as precursor to the national elections next year, indicates that there is a high likelihood of a stable government, Mr. Hajra said. The uncertainty about the general elections in the coming year has led local and foreign investors to hold back on initiating large projects.
"The market perception is that Narendra Modi is extremely business-friendly, as reflected in what he has achieved in Gujarat," said Mr. Hajra. "His bettered prospects in the 2014 elections will definitely have a positive effect on the markets."
Foreign investors, who make up one of the primary influencers in the Indian stock markets, are optimistic in the light of the state election results, said Ajay Bodke, the head of investment strategy and advisory at Prabhudas Lilladher, a brokerage firm in Mumbai.
"Foreign investors want a decisive party or coalition at the helm that will revise the moribund investment cycle, create more business-friendly conditions and ensure that the red-tapism and policy paralysis currently prevalent is overcome," he said.
The Indian stock markets, which fell steeply in May after the Federal Reserve's announcement of a possible tapering of its quantitative-easing measures, have rallied since mid-September, when the Fed decided to postpone those actions.
"The rally in the Indian markets has been a combination of global and local factors," said Mr. Bodke. "If tapering were to start sooner rather than later, then all emerging markets will have to temper their exuberance."
This article is from:  
Indian Stock Markets Hit Record High on B.J.P. Victories – NYTimes …
See which stocks are being affected by Social Media