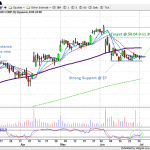 On Wednesday afternoon, Rite Aid (NYSE: RAD) presented a nice swing-trading opportunity with an excellent set-up.
Consumer staples stocks pulled back a bit through June, offering good entry points to get into some up-trending stocks. RAD has followed suit, and looks like a no-brainer buy at current prices.
Since the beginning of 2013, RAD has gained a whole lot — 422.79 percent, to be exact. Despite the ridiculous return figure, Rite Aid has had plenty of consolidation phases this year, indicating that traders are constantly testing the stock's price.
The up-trend is not parabolic, and RAD is somewhat correlated to the Consumer Staples Sector (NYSE: XLP), so the individual risk of an absolute blowup is relatively limited.
The most attractive feature of Rite Aid is its current technical set-up. RAD recently hit closing highs of $8.50 on June 4th, before pulling back down to $7 in mid-June. Strong support emerged at the $7 level, and RAD based through the final two weeks of the month.
Related: ADP Says Private Sector Job Growth Surged In June
It's a textbook pull-back/base formation, and falls perfectly in line with the stock's long-term linear up-trending channel. Looking a bit further back, $7 was previous resistance in March, and served as newer support in mid-April. Thus, the recent base over the past few weeks here is very encouraging.
Analyst Approval
On Wednesday, RAD was modestly higher in early trading and was pushing above a convergence of its major short-term moving averages. The stock has finally exited the oversold stochastic, meaning buyers are stepping back into the fold.
Analysts also have voiced some support for RAD here as well. On June 6th, Goldman Sachs raised its target from $9 to $9.50 and reiterated its "buy" rating. This, coupled with the textbook base formation, has Rite Aid poised to make a move higher. The question is, how high should we set a target price?
The June 4th closing highs would be a nice intermediate-term target, and could be revisited towards the end of the summer. However, there is resistance just above $8.00 in the form of an open gap down that was never filled (June 5th open).
In the interest of keeping the trade duration shorter and hitting a target that is "the next stop" for the stock, $8.04 seems like a more plausible target. From current prices, a run back to this resistance would still net a nice gain of +11.35%.
Limted Potential Risk
Another great thing about trading RAD here is the potential risk is quite limited. The clear line in the sand is $7, so a stop at $6.98 only presents us with a potential loss of 3.32 percent, should the trade not work out. This means the potential reward heavily outweighs the risk.
There isn't anything especially snazzy or difficult about swing-trading Rite Aid here. The stock is a reliable up-trending chart, has pulled back to a great entry point, has favorable analyst ratings, a nice technical set-up, and high upside/low downside trade targets.
Disclosure: At the time of publication the editor and affiliated companies own the following positions: None
View post:  
Now Is The Right Time To Buy Rite Aid | Benzinga
See which stocks are being affected by Social Media