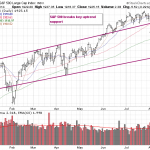 It was the worst week for the S&P 500 in 2 years (-2.7%) which speaks more to how smooth things have been on that index than anything too horrible with this week's performance.   The NASDAQ had a weak period this spring but if you recall the S&P 500 and Dow Jones had not been hit very hard at all as people rotated out of growth names into safety stocks in April and May.   For the day the S&P 500 fell 0.29% and the NASDAQ 0.39%.  Indexes started higher on the monthly employment data but sold off later in the day.  This is different than the pattern we have seen for 2 months where almost every morning buyers came into the market.   As for the labor data it was perversely "good news" for the market as it was not a great jobs report – a lot of traders want the Federal Reserve at their back forever so any jobs data that shows a lot of improvement is actually now going to be seen as "bad".
Nonfarm payrolls increased 209,000 last month after surging by 298,000 in June, the Labor Department said. Economists had expected a 233,000 job gain.  The one tenth of a percentage point increase in the unemployment rate to 6.2 percent came as more people entered the labor market.  The labor force participation rate, or the share of working-age Americans who are employed or at least looking for a job, increased to 62.9 percent in July after holding at 62.8 percent for three consecutive months.
The indexes call for caution now with yesterday's drop.  The S&P 500 broke key support and we need to see some new positive action to get constructive again.  The NASDAQ broke below March's highs and have a bearish double top in play right now.
We mentioned the NYSE McClellan Oscillator did not look it had updated correctly yesterday and this was correct.  It was showing a reading in the -50s, and today we can see it was actually -80s.  This does set up a SHORT TERM bounce opportunity as when we see a drop into the -90s it usually means a knee jerk bounce is not far off, even if it is only for a day or two.  If you got caught in the selling yesterday and want to lighten positions until the market rights itself that oversold bounce would be a good one to sell some stock into.
Facebook (FB) came down today to "fill its gap" which was created on the earnings spike.  Often these gaps dont get filled for a long time as a momentum stock will spike post earnings, consolidate for a week or two and then begin a new run up.  But in this case we got a nice quick gap fill and if the market was healthier it would be an interesting place to begin a trade.  That said Facebook looks like it will be one of this quarter's leaders as its magnificent earnings report will have people crowd into the stock.  If the market remains weak and it falls back down to its 20 day moving average it would be an interesting opportunity.
Tesla Motors (TSLA) gained after not doing much in after hours yesterday in reaction to its report; investors were happy after the electric-car maker projected increased output in 2015.  That said, it's chart is not "fantastic".
If you remember the crazy IPO of GoPro (GPRO) well reality finally hit the stock today as it slid after the maker of wearable cameras reported a larger quarterly decline from the year-ago period.
Shares of Procter & Gamble Co (PG), the world's largest maker of household products, rose after it said it could sell about half of its brands in the next two years and cut jobs.
Well we had a wild and interesting week; if you are an intermediate to short term trader/investor it was one to begin to make adjustments too.  Everyone has been conditioned to buy any dip so the expectation until proven otherwise is the dip will be fleeting but one of these days we'll return to normal times and have an actual 10%+ correction.  Of course no one knows when.
Link to original: 
STTG Market Recap August 1, 2014 – Stock Trading To Go