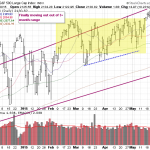 Another quiet session in a week full of them.  The S&P 500 gained 0.23% and the NASDAQ 0.38% as morning weakness was bought.  This is a good sign again, but these gains are of a grinding nature.  Existing home sales for April fell 3.3%, missing an expected 1% gain to 5.24 million units. Earlier in the week, reports showed home builder sentiment fell in May, but housing starts for April came in much better than expected.
Perhaps we have a nice little bull flag forming on the S&P 500 here after a breakout of a very long range.
Salesforce (CRM) rallied after a solid earnings report after the bell Wednesday. The business software provider beat estimates by 2 cents with adjusted quarterly profit of 16 cents per share, while revenue was in line with forecasts. The firm also increased its full-year forecast on increased subscription and services revenue.  Recall this company has been the focus of takeover speculation in the past few weeks.
Amazon.com (AMZN) closed up following the announcement that Amazon Prime Now is offering one-hour delivery from local stores In New York's Manhattan, including groceries, meals, and baked goods.
Shake Shack (SHAK) surged on a trademark filing that indicated the burger chain might be adding chicken to its menu.
NetApp (NTAP) tumbled after forecasting sales that missed analysts' projections.  It was a very ugly chart even before the news.
Bespoke has an interesting note on the perception of the market by investors. Despite being at/near all time highs there is some negativity out there – maybe it is the grinding nature of the 2015 market.
This morning's American Association of Individual Investors (AAII) survey of investor sentiment showed the bulls declined again, to their lowest level since April 19th, 2013: 25.2. This marks the 12th week in a row that bulls' share has come in lower than 40, and the third in a row it's been  below 30. It's also interesting to note that this is one of only seven occurrences since 1987 where bullish sentiment has declined below 26 while the market is within 1% of 52-week highs. At right we chart those prior occurrences on a log-scale time series of  the S&P 500 and a time series of the AAII Bulls.
Excerpt from – 
STTG Market Recap May 21, 2015 – Stock Trading To Go