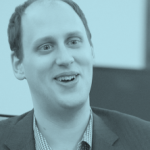 Our Structure Data speakers are building the infrastructure that will run the applications of the next decade, establishing partnerships that will change the face of how big data is interpreted and utilized, and they are foreseeing trends that most of us read about. From startup to enterprise, these trailblazers are worth taking note of. Here are three you shouldn't miss while at Structure Data.
Ted Bailey, CEO and founder, Dataminr
CNN is moving with the times to amp up the 21st century version of breaking news with a partnership with Twitter and Dataminr. Behind it all is the big data science of Dataminr. Dataminr's algorithm feeds over 500 million tweets and authentication analytics daily to CNN-affiliated journalists looking to gain insight on breaking news.
Vern Brownell, CEO, D-Wave Systems
The next generation of data processing reacts 3,600 times faster and has quadrupled its qubit-chip count from the first-generation model. It's also at a price that only Google, NASA and Lockheed Martin can afford; however, Brownell says the future of the quantum D-Wave computer is in an API. From AI and ML to software verification and investment risk, the future of the D-wave quantum computer is stealthily growing.

Boyd Davis, VP and GM, Intel's Datacenter Software Division
There are a few key reasons to keep Intel on your list of companies to watch: Its newly developed MXC optical cables use light to move data between servers and computers, leaving traditional copper cables in the dust. It is also taking a hold in the health-wearables market with the acquisition of Basis to incorporate its chip hardware. Then there's the future release of a 64-bit quad-core processor that has already caught the eye of Google for its next tablet.
Take a minute to register now.
–Clare Ryan
Credit: 
Upcoming Gigaom event: three innovators who are shifting the big …