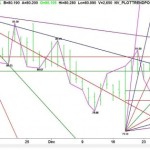 Get Forex buy/sell signals directly to your email and by SMS.
The March U.S. Dollar Index is trading higher today. Volume is down because of light trading in the Forex market. Short-term analysis suggests the dollar is still trying to establish a new higher support level. Long-term analysis suggests the dollar should benefit from additional tapering by the U.S. Federal Reserve. With the Fed set to cut another $10 billion from its monthly monetary stimulus in January, the dollar should start to show bottoming action shortly after normal trading conditions resume in a few days.
Technically, the main range is 79.50 to 81.00. This makes the retracement zone at 80.25 to 80.07 a potential support zone. Late last week, an unusual move in the Euro helped drive the dollar index through this zone, but over the past two days, this zone has held as support. Although trading is expected to be limited today, stranger things have happened in the past. A sustained move through the 50% level at 80.25 could trigger a short-covering rally while a move with conviction through the Fibonacci level at 80.07 may fuel a sharp break.
The closest support angle is at 80.00 today. A failure to hold this angle could trigger a break into the last bottom at 79.82 then another uptrending angle at 79.75. On the upside, holding above 80.25 will be a sign of strength. The daily chart indicates there is plenty of room to the upside with 80.62 a potential target.
See more here: 
US Dollar Index (DX) Futures Technical Analysis – December 31 …
See which stocks are being affected by Social Media