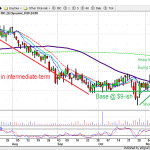 ---
When corporate insiders are buying their own stock heavily, its usually for good reason – they believe the stock is going up.
Playing insider buying signals is an effective, but often under-utilized way to trade. While sometimes these signals don't pan out, more often than not they are extremely useful for catching a small-cap stock before a big run.
This week, Micrel (NASDAQ: MCRL) flashed a heavy insider buying signal, and its set-up is perfect for a buy this morning.
The ideal setup for buying these insider stocks is this: small-cap stock, extremely oversold conditions in the intermediate term, a period of base / turnaround, positive trending in the short term, and of course, a heavy insider buying signal.
Related: How to Trade the Range With Applied Materials
That's exactly what is seen with Micrel. Micrel spent from mid-July to late-October down-trending, going from highs of $10.76 in the summer down to $8.79 a few weeks ago. The stock seems to have formed a base around the $9 area which just so happens to be the weekly support on its clearly defined long-term trading range.
Micrel has propped up from it's Oct 25 lows to a safer price level around $9.30, which makes for a more comfortable entry point. It's also at the low-end of a long-term trading range with clear upside to $10.40-ish. Given how successful insider buying signals work with small-cap stocks, Micrel is a compelling idea today.
Stops should be set at a close below the Oct 25 low (closing basis) at $8.79. Basically, Micrel has about two weeks to begin trending higher as long as it stays above $9. It is usually easy to see the effect insider buying signals have on price action pretty quick, so a falter in the short-term and close below $8.79 would be enough to cut the trade off.
Related: Why Netflix Was the Long Trade of the Day
Micrel has the right set-up, the right signal, and is sitting at the right price. We think Micrel is a good opportunity and is today's most compelling trade.
When To Consider Entering the Trade:
At the current price (~$9.30).
When to Consider Exiting the Trade:
At a close below $8.74 (Breakdown) / A close at $10.40 or above (Profit-Taking)
Disclosure: At the time of publication the editor and affiliated companies own the following positions: None
Note: Positions may be bought or sold while this publication is in circulation without notice.
Micrel Inc – Last 30 Days
Micrel Inc – Last 3 Months
Micrel Inc – Last 6 Months
Continue reading here: 
How To Spot The Compelling Buy Signal In Micrel (MCRL) | Benzinga
See which stocks are being affected by Social Media