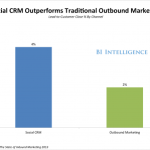 BII
Social media can be brands' best friend or worst enemy. Today's customer or client is absorbing and broadcasting information all day long and much of what they're saying has to do with brands, whether they're endorsing a certain product or complaining about a recent customer service experience.
But most brands and businesses don't actually communicate with their customers on social media on a day-to-day basis or understand sentiment on social media. That's why customer relationship management is refocusing on social customer relationship management (SCRM). It is becoming more flexible, fast-paced, and interested in customer opinions.
In a recent report from BI Intelligence, we explore how SCRM is changing the way companies interact and more effectively serve their customers, and why it is critical for brands to adopt a social customer strategy, especially as social media and mobile apps begin to mediate more and more customer feedback, purchase decisions, commerce transactions.
Access the Full Report By Signing Up For A Free Trial Today > >

Here are some more highlights from the report on social customer management:
The report looks at data and mini-case studies to reveal the best practices for opening up customer relationship management, and how to involve different facets of business organizations in this function, from customer service teams, to marketing departments, IT officers, and sales executives.
The wealth of data on customer desires being generated by this strategy is helping organizations work more effectively, and achieve better results.
We discuss social customer relationship management's huge sales potential. The data shows that social customer management doubles the percentage of sales leads that result in actual sales, relative to traditional CRM approaches.
The report also explores the three main differences between traditional and new social-influenced approaches to customer service and relationship management.
We present the four necessary ingredients of a successful social customer strategy, and examples of businesses that have paved the way for holistic approaches such as social customer service.
We'll answer frequently asked questions about social customer relationship management and what defines it.
Boosting leads and customer lifetime value are two aims of social customer management, but a broader goal is to bring customers' concerns deeper into the company's decision-making.
In full, the report looks at a few case studies of good social media customer-centric efforts:
Dell: The computer technology corporation was an early adopter of social customer relationship management and in 2010, Dell opened up its social media command center to all employees, regardless of their function.
Domino's: A disastrous YouTube video posted in 2009 showed two Domino's employees mishandling a pizza. After the video went viral, the company launched a massive campaign to analyze public opinion across all social media.
Best Buy: The electronics retailer unrolled a Twitter-focused marketing and customer service strategy built around "Twelpforce," a system the company created to allow thousands of employees across departments to receive and respond to customer queries via Twitter.
American Airlines: Socialbakers ranks industries and brands according to "social devotion," or how attentive they are to customers on Twitter. Surprisingly, troubled American Airlines ranks ninth among all U.S. brands (American has a response rate of 94%).
For full access to this report along with dozens of in-depth social media and mobile industry reports and a library of hundreds of charts, sign up for a two-week free trial of BI Intelligence.
Read more: 
Leveraging Customers On Social Media 2 – Business Insider