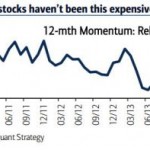 Momentum traders – relying on the 'trend is your friend' theme – may have a rude awakening soon as momentum stocks trade at a stunning 50% premium to the market (vs an average 20%). As BofAML notes, high growth, high multiple names that have been leading the market over the past year are showing some signs suggest we are close to a tipping point. The growth-to-value spread is at its highest since the peak of the dotcom bubble in 2000 and, as Subramanian ominously notes, when momentum ends, it ends badly – with an average loss of 25% over the next 12 months.
Momentum stocks are now trading at about a 50% premium to the market, where the average has been closer to a 20% premium.
Via BofAML,
Mo' and growth – are we done yet?
Of the factor groups we follow, price momentum and growth factors are outperforming by the widest margin this year, and are roughly neck and neck for the year – largely, because the two strategies represent the same stocks: high growth, high multiple names that have been leading the market over the past year. Some signs suggest we are close to a tipping point. Market breadth amongst the growth strategies we track is starting to narrow, with only one factor of five continuing to outperform in July. Valuations and flows, explored below, suggest further risks of a reversal. And it could be felt hard: as the market has narrowed, funds have doubled down on their winning bets, with the 10 biggest overweights now more overweight than ever.
Growth vs. value spread now highest since 2000
Another eerie sign that the end of momentum may be nigh: July's outperformance of high secular growth names pushed the Growth / Value outperformance gap to 6.5ppt in the YTD, the widest gap for this point in the year since 2000, the year of the Tech Bubble peak. Meanwhile, buying inexpensive names has been a route to underperformance. July saw a further meltdown, with some valuation factors logging their worst returns this year: EV/EBITDA and Price/Book lost ~5% each and ranked in the bottom 5 screens.
When momentum ends, it ends badly: avg NTM loss of 25%
The outsized performance of 12-month momentum stocks has now pushed valuations of the winners to the highest levels we have seen since the financial crisis. Being priced for perfection renders the group even more vulnerable to a change in leadership. Momentum, by definition, tends to work very well until it breaks, but the magnitude of absolute and relative losses post-break has been extreme: from 1986 to now, cycle peaks in 12-month momentum have been followed by extremely weak momentum returns in the next twelve months: relative underperformance of 16ppt, and absolute losses of 25% on average.
Virtually nothing has worked better in this year's thinning equity market than momentum, where you load up on stocks that have risen the most in the past two to 12 months and hope they keep going up. Sent aloft by sustained rallies in biotech and media shares, concern is mounting that the trade has gotten too popular, setting the stage for sharper swings.

"In the past few years, including this year, there have been a lot of moments when trades have become crowded," said Arvin Soh, a New York-based fund manager who develops global macro strategies at GAM, which oversees $130 billion. "What's different is that the reversals that eventually come do tend to be more severe now than what we've seen over a longer-time horizon."

"The question is whether you're seeing the narrative change around biotech and it's causing that momentum trade to lose steam," said Grieves, a London-based portfolio manager at Miton, who runs the firm's U.S. Opportunities Fund. "The problem with momentum trades is that you have no margin of safety. When you get on the bandwagon, you shut your eyes to valuation."
* * *
Crowded trades and thin liquidity… grab the popcorn…
Average:
5
Your rating: None Average: 5 (5 votes)
This article: 
Momo No Mo' – BofAML Warns Stocks "Close To A Tipping Point"
See which stocks are being affected by Social Media