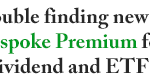 After trending downwards for the last year, the Nasdaq Internet Group finally looks to be breaking higher. You can see the break above the top of the downtrend in the chart below.
Remember when the Internet group was surging higher right inline with the Biotech group in 2013? That surge seems like an eternity ago after the lackluster performance Internet stocks experienced in 2014. As shown below, after moving hand-in-hand higher throughout 2013, Biotech left the Internet group in the dust last year. Through today, the Biotech group is up twice as much as the Internet group since the end of 2012.
With the group's recent break above its downtrend channel, traders are searching for the right Internet stocks to pick up. Below is a list of the 30 largest Internet names run through our custom trading range screen. For each stock, the dot represents where it's currently trading while the tail end represents where it was trading one week ago. The black vertical "N" line represents each stock's 50-day moving average, and moves into the red or green zones are considered overbought or oversold.
As shown, stocks in the Internet group are all over the place, with some in extreme overbought territory and some at extreme oversold levels. Most of the moves in these names recently have been due to stronger or weaker than expected earnings reports. Names like TripAdvisor (TRIP), Netflix (NFLX), Amazon (AMZN) and LinkedIn (LNKD) all surged to overbought levels after positive earnings reports this season, while others like Baidu (BIDU) and AOL are oversold due to poor earnings reports. The most interesting names are the ones that are trending higher (tails to the left of the dot) that have just moved back above their 50-days.
Contact us to learn how you can run your own portfolio through our custom trading range screen on a regular basis.
See the original article here: 
Nasdaq Internet Group Breaking Downtrend?
See which stocks are being affected by Social Media