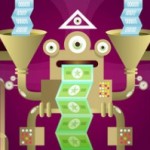 There's big bucks in Big Data, but will we be left poorer for it?
|
August 13thREAD MORE
We see stories about how Big Data's potential to change the world almost every day, especially where big business is concerned. But few people discussed the negatives it could have, such as its potential to disrupt the academic world in a way that could harm us all.
An interesting article in The Wall Street Journal last weekend once again highlighted the dearth of data scientist talent – and apparently, the shortage is so acute that firms are prepared to pay through the nose to land their man.
Organizations are fighting like crazy to get their hands on the data scientist talents out there, writes Elizabeth Dwoskin. Specifically, what they're after is people whose skills can "extract and interpret the explosion of data from Internet clicks, machines and smartphones". The chief of Booz Allen Hamilton's data science group told Dwoskin that data scientists are being hit with up to "100 recruiter' emails a day". She adds that there's currently in the region of 36,000 openings in the data science field at over 6,000 US companies.
Data scientists with as little as two years' experience can grab big buck salaries of $200,000-$300,000, Dwoskin claims. But for academics who happen to specialize in something like breast cancer research or genome mapping, the rewards could be even greater.
Not surprisingly such crazy money has helped fuel numerous Big Data schools such as the Insight Data Science Fellows Program in Silicon Valley and New York City, where academics can sign up for an "intensive six-week post-doctoral training fellowship bridging the gap between academia and data science." And as if the potential salaries aren't tempting enough, the program claims a 100 percent job placement rate upon completion of its course.
If you happen to have academic and/or data science skills, this trend can only be a good thing. But it could have much wider implications that few have really thought about. If all the best academics-cum-data scientists are being snapped up by Fortune 500 companies to help them chuck better targeted ads at people, how many will be left to carry on with the breast cancer research or genomic sequencing? The answer, if the sky-high salaries on offer are to be believed, is very few.
What with all the hype around Big Data, it's unlikely this trend will fade away any time soon. The best we can hope for is that we'll come up with a way to better automate data analysis, so we don't always need an 'expert' to perform routine tasks. If and when that happens, we might finally fulfill the potential of Big Data in other areas, besides just helping big business to grow their revenues.
About Mike Wheatley
Mike loves to talk about Big Data, the Internet of Things, Hacktivists and hacking, but he also hates Google and can never resist having a quick dig at them should the opportunity arise 🙂 Got a REAL news story or tip? Email [email protected]
View all posts by Mike Wheatley
See the original article here:  
There's big bucks in Big Data, but will we be left poorer for it …