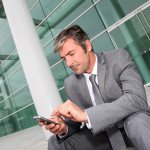 More investors are buying and selling shares with their smartphones
More investors are selling stocks the same way they take selfies: With their smartphones. But just because you can trade shares of AAPL on your iPhone doesn't mean you should, experts say.
Customers have long used their smartphones to check stock quotes in real time. But over the past year, the biggest brokerages say they've seen significant surges in actual trading.
Fidelity Investments, which has nearly 15 million retail brokerage customer accounts, says that in 2013, mobile trading, including trading from tablets, grew 63% over the previous year. The Fidelity financial apps have been downloaded 3.6 million times, according to the firm.
E*Trade Financial Corp. /quotes/zigman/118511/delayed/quotes/nls/etfc ETFC -2.42% ; says the share of its 3 million customers who use mobile trading jumped from 6.5% in 2012 to 8.4% in 2013, and will likely cross the 10% mark in the near future. The online broker says 80% of those trades come from a smartphone. And between 2010 and 2013, trading on mobile phones and tablets increased 713% at Scottrade Inc., which works with 2.4 million customers. This January and February, the online broker saw trading more than double compared with the same two months a year earlier.
What's driving the growth in mobile trading? It's due in part to technological improvements that have erased most of the difference in speed and reliability between trading from a phone and trading from a PC. The rise of tablets, which keep mobile traders from having to squint at a phone screen all day, has no doubt helped, too.
What's more, many of the investors are Gen X and Gen Y, the companies say—populations that are both comfortable with technology and eager to control their accounts in real time. "Since the crash, they want more control of their accounts, and mobile helps facilitate that," said John Matos, senior vice president of product management for E*Trade.
Usage habits suggest that many of these trades are coming from the kind of active traders who might otherwise be buying and selling from their desktops all day. "We are seeing trading activity that is consistent throughout the day," said Velia Carboni, SVP for Fidelity's mobile apps. But "if you see a big shift in the market, we see a big spike in trading on the phone." Investors who use Fidelity's application do so pretty consistently, making trades 5-10 times a month. E*Trade, meanwhile, reports that users gear up in the premarket hours to trade from their phone later in the day.
"I might not be watching the market, but if I am in the car and realize the market is up 300 points, I can pull over and just jump on my phone and sell something if I want to," said Sunil Katwala, a Fidelity customer from Long Island, who says he trades on his phone several times a month.
Bigger, more diversified brokerages like Bank of America Corp.'s Merrill Edge, Wells Fargo & Co. and Charles Schwab Corp. also say they're seeing increased demand from investors for mobile trading options. "They can truly do whatever they need to do in their daily lives and have full access to their financial information," said Paul Vienick at Merrill Edge.
The Bank of America unit has noticed an extreme uptick on phone usage in the last two years, with 2013 mobile trading volume up nearly 200% year-over-year. "10 to 20% of trades could be coming through the mobile app," said Vienick. "Going back two or three years ago, that was more on the 2%-7% range."
The possible perils of mobile trading
Are smartphone traders more likely to make a mistakes or rash decisions? "There's a chance the transmission won't go through, or you could end up trading the wrong stock," said David Hilder, analyst at Drexel Hamilton, who says he doesn't trade individual stocks. "If you start arranging your life assuming that you can trade whenever you want, but it turns out you couldn't trade because of a weak signal, that could cause problems with your investment strategy."
Past studies have suggested that non-professional investors who trade more frequently tend to perform less well than those who pursue more of a buy-and-hold strategy. In that sense, mobile trading could make it too easy for some investors to trade too much. See: How individual investors are destroying their wealth.
But fans of mobile trading say that these are problems for which the mobile technology itself isn't to blame. "Chances are if you're going to screw up, you are going to screw up on a PC also," says Katwala.
Placing a trade on your phone typically involves the same process as entering a desktop online trade. Most online brokers say there is no real lag-time for trading on the phone, as long as the wireless connection is operating effectively.
For most of the mainstream trading apps, users have to login every time they make a trade or want to look at their balance: There's no getting around that security function, say experts.
Inside one broker's mobile trades
TD Ameritrade Holding Corp. /quotes/zigman/9766366/delayed/quotes/nls/amtd AMTD -0.57% , which has 6 million client accounts, has a trading platform tailored toward technically oriented users: they can look up statistics like moving averages and trade options, while also trading complex options, futures and currencies. "The acceleration of the growth of mobile has far outweighed any other technology offering," said Nicole Sherrod, managing director of the mobile group at TD Ameritrade.
Most brokerages decline to share many specifics about their mobile traders' habits, but TD Ameritrade offers a bit more detail. The brokerage firm says it's now seeing up to 13.4% of all trading being done through the phone — that's 67,000 trades per day, with an estimated value of above $1 billion a day.
Originally from: 
TRADING WEEKS: Should you trade stocks on your iPhone?
See which stocks are being affected by Social Media